12 Home Staging Tips That Are Designed to Sell
Posted by Lindsey Gudger on Tuesday, November 28, 2017 at 6:13 PM
By Lindsey Gudger / November 28, 2017
Comment
Staging your home helps you build that memorable first impression for potential buyers. You have to showcase your home's strength and downplay its weaknesses. Staging is also especially important in slow markets with high inventory and many competing homes. Heed these simple yet effective staging tips that may just help you close the sale.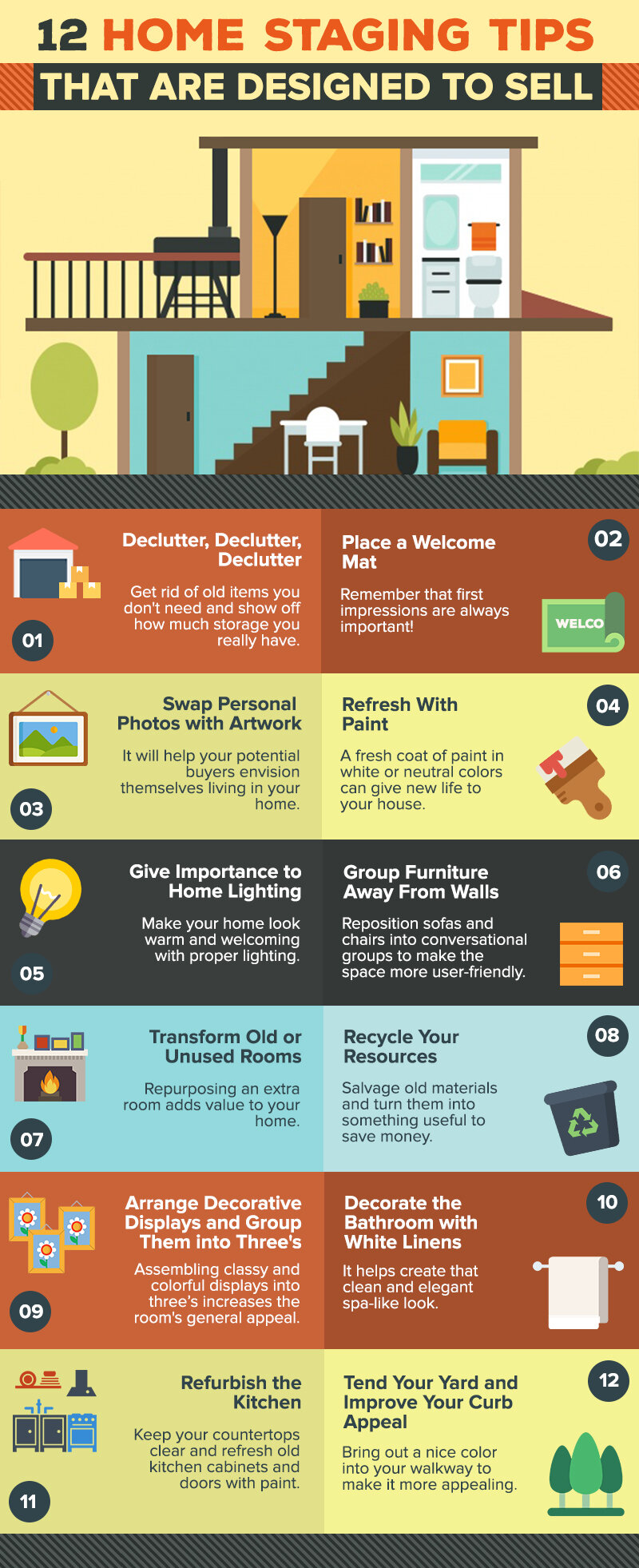 1. Declutter, Declutter, Declutter
Get rid of your old items and things you don't necessarily need. Give yourself a rule that when a new thing comes, the old one must go. Organize your shelves to show off how much storage you really have, as prospective buyers love homes with lots of storage spaces. Clearing away your clutter will definitely help make the house look tidier and bigger.
2. Place a Welcome Mat
An enticing entrance is key when you're luring prospective buyers. A new welcome mat that complements the style of your home can easily convince them to see more. Remember, first impressions are always important. So adding fresh potted plants to an entry area could also create a relaxing atmosphere on the way in.
3. Swap Personal Photos with Artwork
Replacing those personal pictures of yours and your family with pieces of artwork will help your potential buyers envision themselves living in your home. You can opt to buy paintings of landscape scenes, modern shapes or floral motifs at thrift shops to create a focal point for your home. You can also print out inspirational travel images to display a certain lifestyle.
4. Refresh With Paint
Put a fresh coat of paint in white or neutral colors to give new life to outdated doors, walls, and casing. It will make the house look cleaner and more contemporary.
5. Give Importance to Home Lighting
The secret to a great staged home that looks warm and welcoming is great lighting. Nobody wants to go in a house that projects a dim vibe just because it is improperly lighted. Increase the wattage in your lamps or fixtures and put them in key areas. Also open up windows and curtains to let the sunshine in and naturally brighten up the whole room.
6. Group Furniture Away From Walls
Move away from the common idea that rooms will feel larger and be easier to use if all the furniture is pushed against the walls. Instead, reposition sofas and chairs into conversational groups and place pieces of furniture away from the walls. It will help make the space more user-friendly and make the room seem bigger.
7. Transform Old or Unused Rooms
Repurpose an extra room into a space that will certainly add value to your home. You can turn that old junk room into a mini library with a comfortable reading spot by placing a bookshelf, a comfortable armchair and a small table. Or turn it into a yoga room or a mini entertainment hub. Either way, it will help the potential buyers envision the room with a special purpose that will suit their lifestyle.
8. Recycle Your Resources
Look for ways to salvage old materials to save money. Repurpose old junk and turn them into something new and useful, like making headboards out of old doors or turning strips of hardwood flooring into new fences.
9. Arrange Decorative Displays and Group Them into Three's
Assembling classy and colorful displays, such as vases, lanterns, books and other decorative items, atop dressers and counters could give your house a cozy and relaxing look. It will also increase the room's general appeal. Arrange them in odd numbers, preferably in three's, and in varying heights and shapes, while keeping them in the same color family. You can also try to mix and match items from craft stores to create a unique but modern look.
10. Decorate the Bathroom with White Linens
Tidy up your washroom by using white towels, bath mats and shower curtains for that clean and elegant look. Take it a bit further by creating spa-like displays, such as adding candles, fresheners and special soaps. Stack hand towels neatly near the sink and complement it with other accessories.
11. Refurbish the Kitchen
The first thing to do when staging your kitchen for homebuyers is to keep the countertops nice and clear. Put only a few items as displays, or center a bowl of fresh fruits or a vase with flowers to add a touch of color. If you can't afford new doors or cabinets, refresh the old ones with paint that match your kitchen walls.
12. Tend Your Yard and Improve Your Curb Appeal
Curb appeal is important when attracting buyers, so bring out a nice color into your walkway that will make it more appealing. You can also grace your yard with potted plants and flowers in bloom, depending on the season.