3 Huge Tips For Refinancing Your Mortgage Even If You Have Bad Credit
Posted by Lindsey Gudger on Tuesday, November 10, 2020 at 11:36 AM
By Lindsey Gudger / November 10, 2020
Comment
Refinancing your mortgage can help ease your financial burden and give you some breathing room. And with the current rates staying at an all-time low, it might be worthwhile to look into refinancing options so you can save money on your monthly payments.
However, one of the biggest hurdles to refinancing is credit score. Many lenders require borrowers to have a minimum credit score of 620 and have solid financial standing. But remember that credit requirements still vary by lender and the type of refinance loan.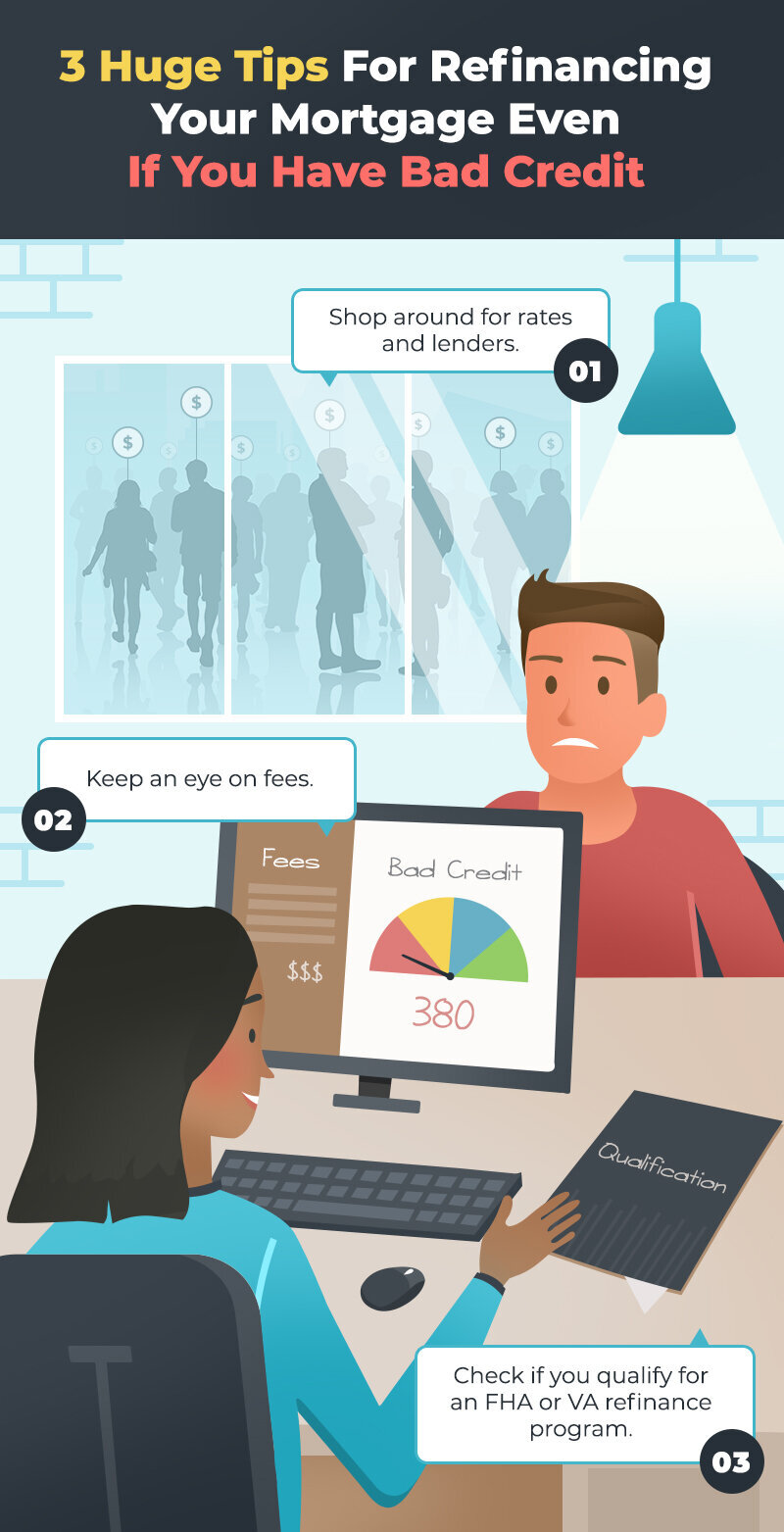 Regardless of your credit, refinancing your mortgage is still possible. It could be more challenging, yes, but still possible. So here are three tips to keep in mind when you decide to tackle the refinance process.
1. Shop around for rates and lenders.
When you start looking for refinancing options, your initial thought might be to go to your former lender. It makes sense since this lender has already given you a mortgage before, he or she could be more likely to help you refinance.
However, experts say it's also worth it to shop around for another lender who may be willing to give you a better rate, even if you have less-than-stellar credit. Check and compare for the best interest rates among real mortgage brokers, online mortgage brokers, and even institutions. If you can't find the rates of a specific lender on comparison websites, try reaching out to the lender or institution directly to see for yourself if they actually have reasonable rates.
Just as you did when you were getting your original mortgage, you'll need to pay closing fees when you refinance, which could amount to hundreds or thousands of dollars. This is why it's imperative that you also ask about any fees—origination, appraisal fees, etc., so you'll know how much you can really save. It's possible that you may have found a lower rate with another lender or mortgage company, only to discover that their fees were higher.
Don't be shy about asking for an itemized list of fees from each potential lender so you can find the one with a lower rate and more reasonable charges.
3. Check if you qualify for an FHA or VA refinance program.
FHA Streamline Refinance Program
FHA loans, which are insured by the Federal Housing Administration, have refinancing options for borrowers with credit scores below 600. If you have an existing FHA loan, you can take advantage of the FHA Streamline Refinance program to help you permanently lower your monthly mortgage payments.
As long as you've paid your monthly payments on time and in full, you can lock in today's lower refinance rates without the need for a lender to verify your income, run a credit check, or demand a home appraisal.
FHA rate-and-term refinance
Aside from their Streamline Refinance program which is reserved for current FHA borrowers, you may be able to benefit from an FHA rate-and-term refinance especially if you have a high interest rate or a conventional home loan.
"Rate and term" simply refers to the ability to get a lower rate or change the loan term. In the program, the lender will require a new appraisal, do a credit check, and calculate your debt-to-income ratio (DTI). Another thing you need to do to qualify is provide proof of six consecutive monthly payments that are on time and paid in full.
Just remember that unlike a cash-out refinance, the purpose of the rate-and-term program is to help you reduce your monthly housing costs, so all proceeds must be used to pay your existing mortgage and costs associated with the transaction.
VA loans are a powerful and attractive home financing option because you can refinance up to 100 percent of the home's value. They are guaranteed by the U.S. Department of Veterans Affairs and are specifically for military service members, veterans, and eligible surviving spouses.
If you have an existing VA mortgage, you can refinance by taking advantage of the VA Interest Rate Reduction Refinance Loan (IRRRL) to be able to lower your monthly payments. With the IRRRL, there's no need for you to worry about your credit score and it typically does not require an appraisal, although the lender might. This is why it is also known as a VA streamline refinance because the process is simplified.
Same as with the FHA refinance programs, you must have made at least six monthly mortgage payments in order to be eligible. Just take note that some lenders might have more stringent guidelines when it comes to the said qualification.