5 Ways To Be A Wise Home Buyer By Balancing Logic And Emotion
Posted by Lindsey Gudger on Thursday, December 28, 2017 at 5:50 PM
By Lindsey Gudger / December 28, 2017
Comment
Buying a home is a big decision that could both be exciting as it is daunting. There would definitely be a lot of emotions involved in every scenario – whether you're moving from an old house with your family, or making your first buy and just starting to build your own family, your emotions will play a part in your decision making. Be wary though that deciding on that alone can make much room for mistakes like lure you into sketchy deals and overpay for perfection.
It's important to strike that balance between emotional and logical thinking. For instance, you can list down the qualities that you want in a home or if you're more visual, make a dream board of your dream home. Now that you have that in tow, make your research – check for homes that fit the bill within the area of your liking and which best suits you and your family's needs, etc. And of course, don't forget to check your finances. This mindset can get you both the house of your dreams and a good deal.
Here are ways you can be a wise homebuyer: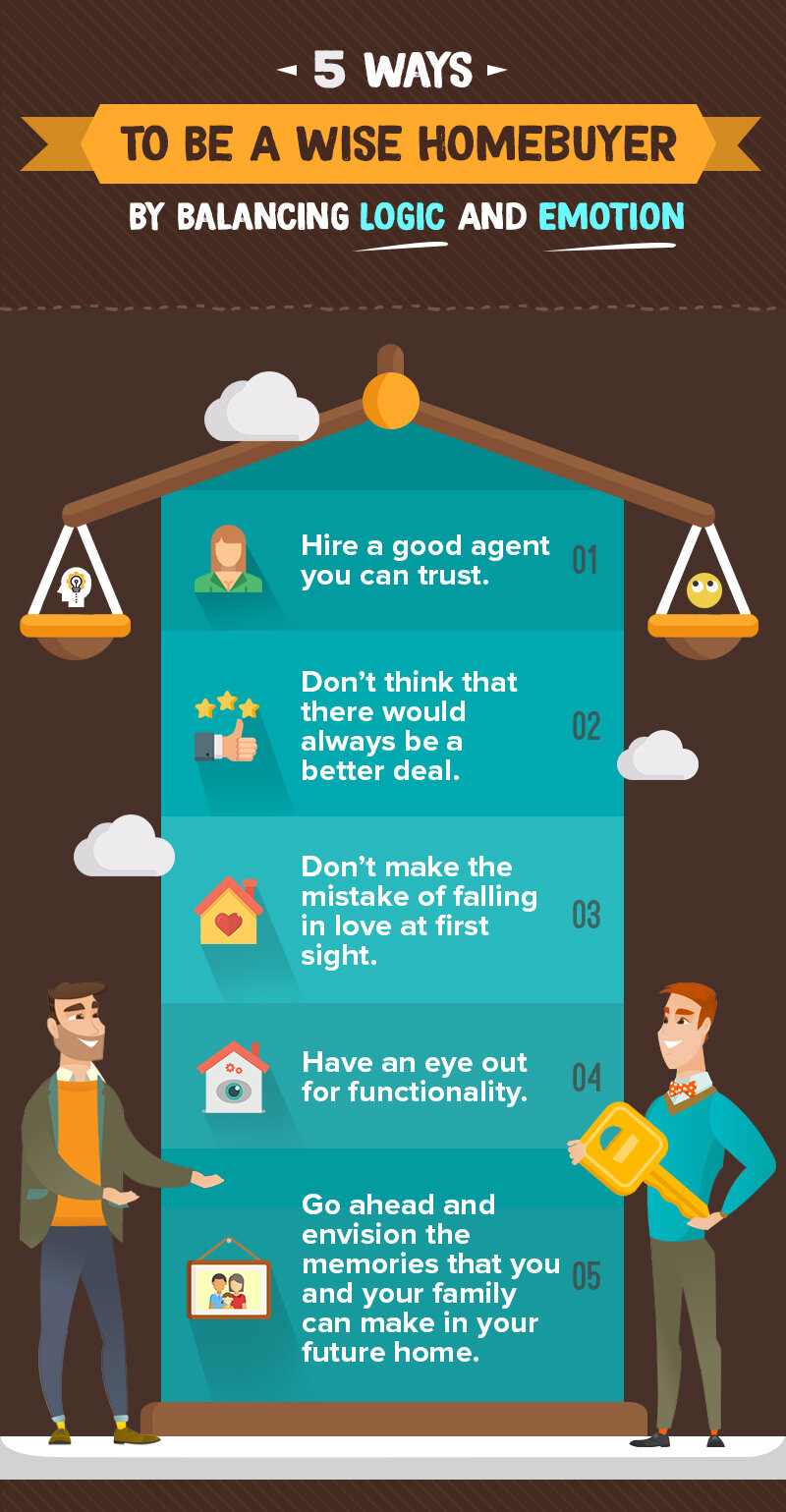 1. Hire a good agent you can trust. Getting a professional on your side can hook you on the house of your liking since they know the local market the best, and they could also minimize risks in buying a home because they know how to deal with sellers without you getting on the losing end. For example, there are marketing buzzwords such as "short sale" and "real estate owned" which are designed to entice buyers into thinking they are buying way below market value when they're actually overpaying.
2. Don't think that there would always be a better deal. It's true that mortgage rates might decline and prices could drop further, but playing odds won't be the best of moves because no one can surely predict what happens in the market. Remember that fluctuations are always an element in real estate transactions, and the only way to get around this is to do your homework, know the value of the area and home you are buying, and discuss them with your agent.
3. Maybe the first stop isn't the best stop. This somehow goes against the previous item but don't make the mistake of falling in love at first sight for a house and thinking that it's the best that you could get based solely on what meets the eye. There are a lot of things to consider such as your finances, and some parts in the home that could need major fixing that you may not be aware of at first sight. Try to look around the houses in the local market with your agent so that you could get a good grasp of your choices.
4. Have an eye out for functionality. A buyer that allows her emotions to cater to her decision making would intuitively assess the layout and features of the house in terms of its functionality. She could envision life in the home and how each space can be made to meet the demands and caprices of everyday living. Sometimes the most important information are not in numbers -- if you're too logical and are stuck with hard numbers of square footage, you might miss the value of how the layout and features of a house could cater to you and your family's needs.
5. Envision the memories that you and your family can make in your future home. This is also in the realm of using emotions to the advantage of your decision making as a home buyer. If the house has a feature of a playground, you can imagine your kids spending their afternoons there with their friends while you make them snacks in your spacious kitchen. These may seem like simple things, but remember that you will spend years in this future home and this is where you will make memories with your loved ones so it's a good thing to consider that. You CAN be a little bit sentimental and still maintain your sense of objectivity.