6 Mistakes to Avoid When Buying Furniture for Your New Home
Posted by Lindsey Gudger on Friday, May 7, 2021 at 6:21 PM
By Lindsey Gudger / May 7, 2021
Comment
Selecting and buying furniture for your beautiful abode, whether it be a sofa, dining table or any other piece, is no doubt fun and exciting. Especially if you're a first-time homeowner who finally has the liberty to choose whatever furniture you want to fill your private space with.
But before you give your home that desired Pinterest-inspired look or buy an item that's similar from what you've seen online or from your favorite home decor magazine, keep in mind that furniture-buying can also be stressful and overwhelming. It's probably the next commitment (and investment) you have to make after buying your home since you'll be using the items for quite a number of years, so it is definitely a huge deal.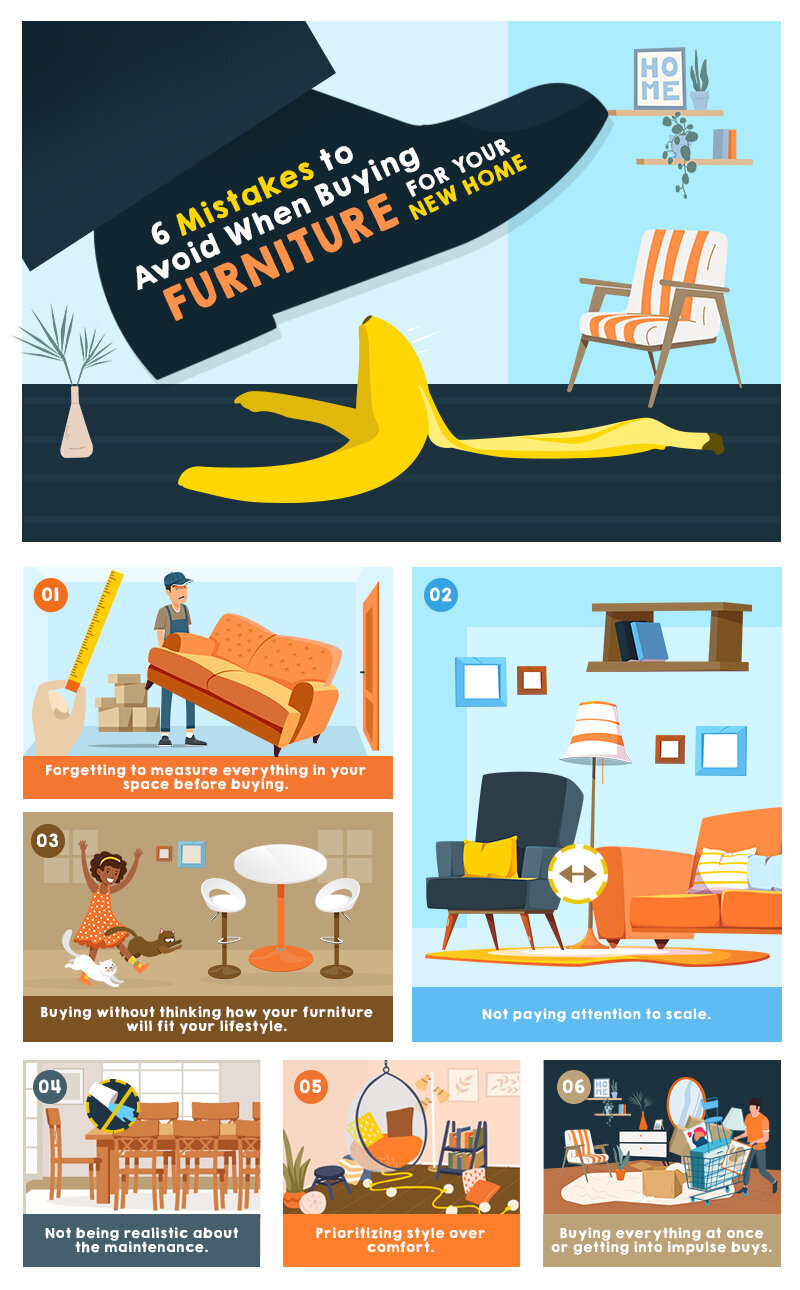 Unless you want to be stuck with pieces of furniture that don't work for the room or any of your space, steer clear of these top six common mistakes before buying. After all, we all just want to end up with great pieces that will not only make our home beautiful but also make our life more comfortable.
1. Forgetting to measure everything in your space before buying.
The last thing you want is to end up with an expensive piece of furniture that won't fit through your front door and through the rest of your doorways and walkways. However, it's one of the most common mistakes many homeowners make when buying furniture.
So here are four crucial things you need to do before bringing home any piece:
Measure the height, width, and depth of the furniture you're considering and see if it'll fit where you want it.
Measure the dimensions of the room where you want to place the furniture, whether it's the living room, kitchen, bedroom, or even home office. It might be easier if you map out your potential new furniture arrangements. One good method is to stick some masking tape or painter's tape on the floor to help you visualize the dimensions of the new piece you're considering.
Check if it will fit the doorways and door frames of the room, the narrow part of the hallways, and even staircases and elevators—anything through which you'll be moving your new furniture.
Last but not least, add some space to your measurements for people who are carrying the piece, especially if they have to move it through a right-angle corner of a hallway or at a narrower part of a room. Also, don't forget to write down all your measurements!
Forgetting to do these things can be costly, especially if you have to foot the bill to return a piece to the store. Also keep in mind that furniture pieces like sofas and dining tables can look deceptively small in a showroom but could end up big for your home. So measure everything (and double-check your measurements) before you hit the stores to avoid falling in love with furniture that will never fit your space.
2. Not paying attention to scale.
Aside from measuring everything, you also need to consider the scale of the product and how much space is needed around it before you bring it home. You want a piece to fit into the space without blocking entryways or foot traffic, or without people needing to squeeze between tightly-packed pieces to be able to have access or move around parts of the home.
Likewise, keep in mind how your room will work as a whole and try to keep things in proportion. For an instance, too small a rug can actually make a room look smaller, while a bulky, oversized sofa can be too dominating or overwhelming. Always consider how a particular piece of furniture would go well with the things alongside it rather than outshine everything else.
3. Buying without thinking how your furniture will fit your lifestyle.
Another mistake of many new homeowners is buying furniture without taking their lifestyle into consideration. Even if you have chosen the chicest pieces to adorn your home, if they don't work with your lifestyle or family circumstances they could only end up bringing you headaches.
For example, if you have children or pets, or planning to have them as you grow your family in the foreseeable future, you might want to select furniture with durable fabrics or upholstery that will resist everyday spills, odors, sharp claws and even muddy paws. Moreso, you might want to think twice before buying a glass coffee table with hard edges, as it could become a hazard especially to toddlers. If you're someone who loves to host dinner parties among families and friends (although things may be quite different for the meantime due to the pandemic), you may want to select a dining table with an extra leaf.
Whatever your lifestyle is, it's important to consider if the furniture you're buying will hold up to those uses. Always ask yourself questions like "How will I use this piece of furniture?" or "What about my family circumstances?" This way, there won't be a need to waste thousands of dollars because you need to replace your things after only a couple of months.
4. Not being realistic about the maintenance.
In relation to the lifestyle subject discussed above, you need to be realistic about the normal wear and tear the furniture will be subject to, and assess your willingness to clean and maintain it yourself or pay for professional cleaning instead. Even if you have the budget to buy high-end pieces, they may require more care than what you have anticipated.
Buy accordingly and know the type of care needed on each piece of furniture, which is highly dependent on the materials and finishes. Be familiar with how it can be cleaned, and what are the best (and worst) products to clean it with. There are a variety of care products such as waxes, varnishes, polishes, and even fabric cleaners, and many were designed to work on certain materials only. Some cleaning products can also be harsh and easily ruin materials like leather and genuine hardwood. So be sure to know what you are getting into, and only consider a certain material if you feel you're up to the task of keeping on top of its maintenance.
5. Prioritizing style over comfort.
With so many beautiful styles and designs to choose from for your sofa, bed, cabinets, or even dining table, it's easier for you to get carried away and buy something that looks great and stylish. But no matter how much you want your home to look like it's come out from a page of an interior design magazine, remember to be practical and always choose comfort over beauty. No matter how attractive, never get caught up in the aesthetics of any piece. The furniture you choose should be fit for everyday use, and should be both comfortable and serve the purpose it's intended for, not to mention that you're going to live with it for years to come.
6. Buying everything at once or getting into impulse buys.
You've spent months searching for your dream home. Now that you've got your house keys, don't spend a few hours (or minutes) buying new furniture just because the empty spaces feel lonely. Or maybe you're already fed up with your old furniture and want everything to be replaced with new ones as soon as possible. No matter how tempting these situations are, don't rush into buying. It's a mistake that could eventually lead to overspending because the pieces you bought could end up neither working for your needs and lifestyle nor matching your personality.
Remember to plan ahead, think it through, check the measurements, assess your lifestyle, check the fabrics, colors, or materials, and take your time instead of making any impulsive purchases. While getting the perfect piece of furniture may not be possible every time, as long as you've seriously considered it and you're still in love with it even after you've slept on the idea, then go ahead and add it to your beautiful home.