7 Potential Red Flags To Watch Out For When House Hunting
Posted by Lindsey Gudger on Monday, September 14, 2020 at 12:10 PM
By Lindsey Gudger / September 14, 2020
Comment
Buying a home is exciting and challenging. You'll get to see different properties, each with its own features and personalities. But purchasing a home is also a huge financial commitment—you can't just get carried away due to excitement at the cost of overlooking important details of the home, which could lead to bigger and more expensive problems down the road.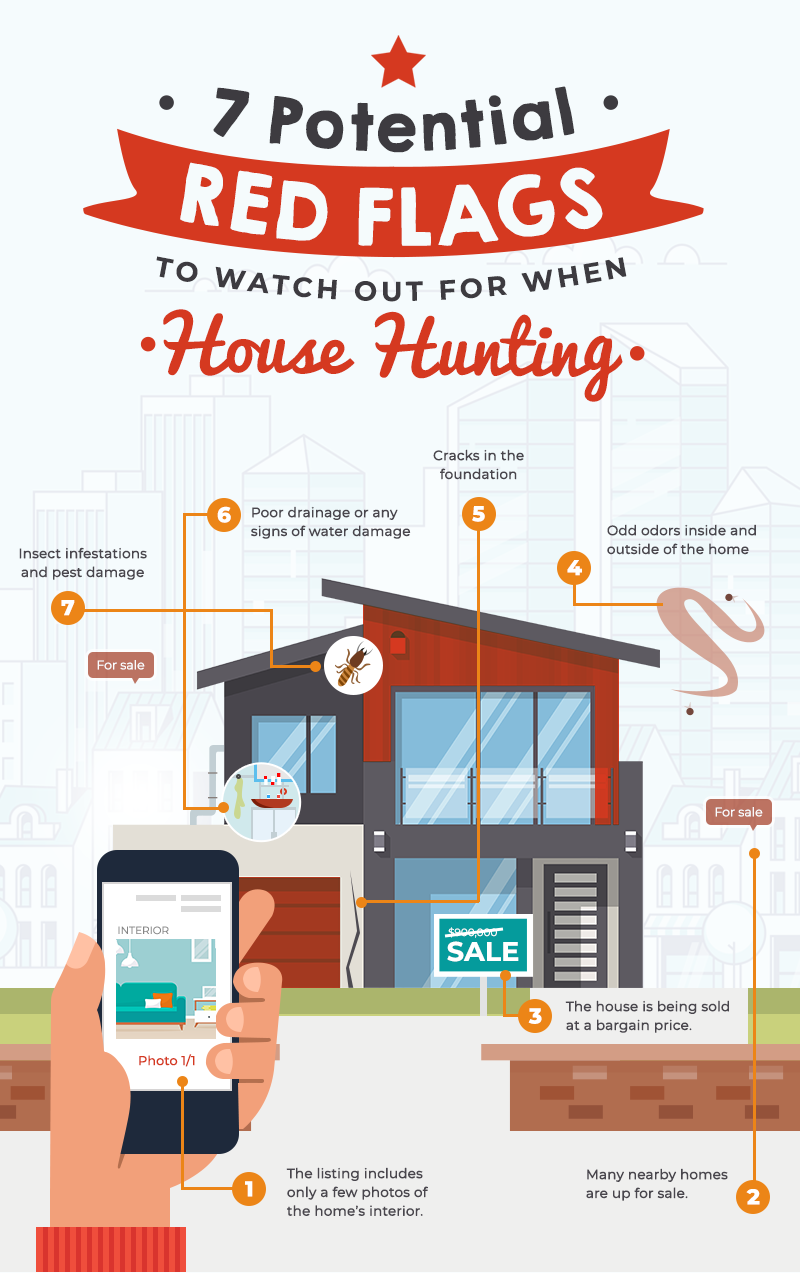 Whether it's the location, the price, or other details that could be signs of potential red flags, it's important to be vigilant when touring and looking at properties. It won't be practical to spend for an inspection on every home you tour, so it's essential to be aware of any warning signs as you're house hunting.
Here are seven of the most common red flags to watch out for before you set your heart on any potential property and claim it as your dream home.
1. The listing includes only a few photos of the home's interior.
Pay attention to this major red flag while you're checking the listing online. Are you seeing only a few photos of the inside of the home? Are certain rooms or areas of the house left out and there are more photos of the exterior and its surrounding area? Remember, every home seller's goal is to present their home in its best light. And the best way to do it is by featuring enough high-quality photos so potential buyers will know the house is in good condition. So before deciding to tour the property, ask your realtor for more photos and see if photos of certain rooms were left out intentionally.
2. Many nearby homes are up for sale.
Second is to pay attention to your neighborhood and the nearby properties. Having plenty of options during your house-hunt is great, but what if there are too many homes for sale in the same street? When you see a lot of other "For Sale" homes in the neighborhood, get curious and ask your real estate agent if it should be a concern or it's just a coincidence. It could be a huge indication that there's an issue with the location.
Take note and deep-dive into why these people are selling their homes. Are crime rates rising? Is it located near a busy and noisy highway? This is why it's crucial to do some neighborhood sleuthing before buying a home. Local details such as crime statistics, school information, and other demographic data are easily accessible online and could be helpful when checking out your potential neighborhood.
3. The house is being sold at a bargain price.
A home's selling price is a major consideration for any buyer. When house-hunting, it's essential to only look at homes that are within your price range or budget. But what if you see a home that is priced too low? Sounds a good bargain, huh?
Be wary if the listing price is way too low for its market value and seems too good to be true. It's a common red flag that usually indicates a number of issues with the home. There could be an issue with the house or location, or there are major problems that will be expensive to repair. Make sure to ask your realtor about the listing price before you rush to make an offer and purchase a money pit that will give you headaches later on.
4. Odd odors inside and outside of the home
Your sense of smell is one of the most potent tools you can use when checking out potential red flags during a house tour. Pay attention to any strange or offensive smell inside and outside of the home. Funky or unpleasant odors could be an indication of mold, a plumbing issue, water damage, HVAC issues, pests, or poor ventilation. If you're doing a video-chat tour of the home, your realtor should be able to inform you about this.
If you're touring the home yourself, also check if the seller is using too much air freshener, or every room has a scented candle lit on. Because while these are appealing scents, they could mean the seller is trying to mask or cover up any offending odor. Likewise, don't forget to sniff out warning signs in areas like closets, cabinets, in the basement, and any other crawl spaces.
5. Cracks in the foundation
When looking at your potential property, one of the most crucial things to keep an eye out for is any cracks in the foundation. A few hairline cracks are normal as the house settles on the foundation over the years. However, large bulges or cracks on the walls and floors are huge causes for concern. They can be a sign that the home has serious structural or foundation issues, and you may have to foot the bill for potential costly repairs and foundation work once you become the homeowner.
6. Poor drainage or any signs of water damage
Another red flag to keep an eye out for is any sign of water problems and poor drainage. Is there any pooling water near the foundation or around the yard? This can be a sign the gutters are not functioning properly, which can lead to water and mold problems inside the home. Other signs of poor drainage can include overflowing gutters or downspouts, as well as water stains. Water stains on walls, ceilings, and in the basement are easy to check as they are yellowish or brownish in color.
Also, watch out for any leaky faucets and pipes as they could be an indication of a plumbing problem on the upper floor. If the property you're considering is located in a flood zone, you might also want to check if the home has a history of flooding prior to purchasing.
7. Insect infestations and pest damage
Because your home will be one of your biggest assets, you wouldn't want to purchase a property with a pest problem. As you walk through the home, look for telltale signs of pest infestations. Check for dead bugs, piles of pest droppings, signs of bed bugs, mud tunnels built by termites, or any evidence of nesting by rodents. Make sure to recognize these signs because many pests, especially the wood-destroying ones, can cause damage to a home which can be very expensive to rectify. Paying for a separate pest inspection is also worth it rather than having to shell out a significant amount of money after you bought the home and found out about those unwelcome creatures.