9 Smart and Practical New Year's Resolutions for Homeowners
Posted by Lindsey Gudger on Monday, January 10, 2022 at 8:51 AM
By Lindsey Gudger / January 10, 2022
Comment
Most New Year's resolutions are about self-improvement—learning a new skill or hobby, eating healthier, or hitting the gym. If you're a homeowner, it's a no-brainer that you also want to improve your home and keep it in its best shape. Your living space has a much bigger impact on your life than you might realize, so what better way to improve your life than by making your home more appealing and comfortable?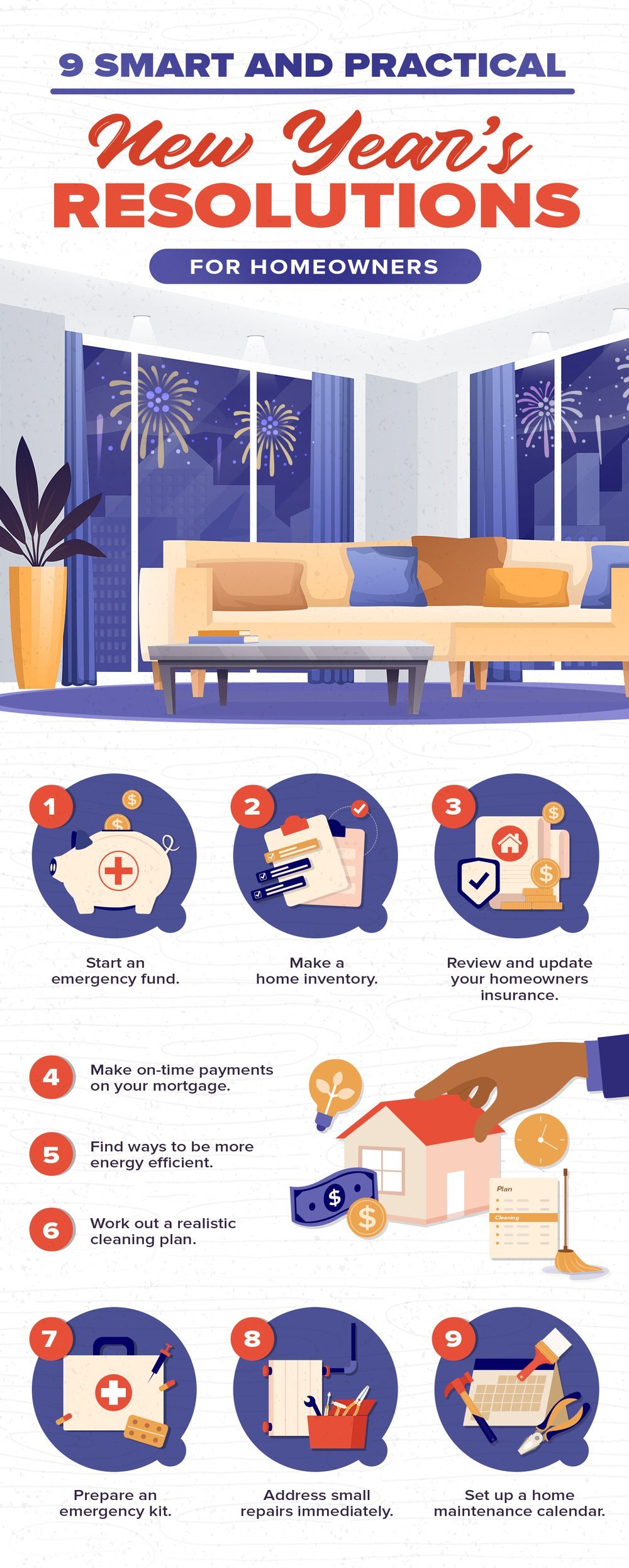 In the spirit of new beginnings, we've come up with a list of goals you can adopt to make a lasting difference in your home and eventually, in your life.
1. Start an emergency fund.
Life is unpredictable, with or without a global pandemic. Many unexpected costs can easily make your finances go awry. This is especially true when it comes to owning a home. If you suddenly need to fix a leaky roof or a broken water heater, an emergency fund can help save you from stress so you can plan your next steps accordingly.
To offset the next emergency (house-related or not), experts recommend putting aside three to six months' worth of living expenses. While that may sound like a big number, you can always start somewhere. Start small by tucking away any extra money you can get. You can also make your emergency fund part of your household budget this new year.
2. Make a home inventory.
After taking countless family holiday photos, it's time to start taking snapshots of your belongings and creating a home inventory. A home inventory is a record of all your personal possessions along with their approximate financial value. Because it documents all your belongings, you'll know exactly what's missing or damaged after an unfortunate event such as a break-in or a natural disaster. Moreso, it can be valuable so you can get your claim settled quickly and more accurately.
If you already have a home inventory, just make sure that it's up to date by removing items you no longer have and adding new items as you acquire them.
3. Review and update your homeowners insurance.
The new year is a great time to get your finances in order, especially in areas in your home where you can save. If you haven't done it yet, review your homeowners insurance policy to make sure your coverage is up to date with your needs and you're not overpaying. If you've made certain improvements to your home within the last year, you'll want to check with your insurance agent to see if you qualify for some discounts. On the other hand, if you live in a flood-prone area, it might be time to be strategic and consider flood insurance to protect your property.
4. Make on-time payments on your mortgage.
Take control of your financial life this year by ensuring that your mortgage payments—and even all other payments, for that matter—are always on time. Set up an automatic payment through your bank so you won't stress about late payments just in case you get caught up with your busy lifestyle. Your credit score will also thank you as you prove you're a responsible borrower whenever you're making timely payments.
5. Find ways to be more energy efficient.
According to energystar.gov, a typical American family spends $2,060 a year on their home's utility bills. And while that's more than $171 a month on average, the amount you spend on your utilities depends on several factors, including where you live and how large your home is.
Make a goal this year to find small ways to reduce your energy consumption and eventually cut down on your energy costs. Little steps such as switching off the lights when leaving a room, turning off power strips, and appliances when not in use, swapping off incandescent light bulbs to LEDs, adding a programmable thermostat, etc... can help you become more energy efficient. There's no need to think about big-ticket items such as solar panels or hybrid cars to make a difference. Just staying committed and being mindful can go a long way to lowering your energy bills.
6. Work out a realistic cleaning plan.
Who doesn't dream of living in a house that's spotless all day long? If you haven't got any house help, that's just close to impossible. So to keep yourself from being overwhelmed by cleaning and organization, this year, devise a realistic cleaning plan depending on your habits and lifestyle.
Will you devote a portion of your weekends to cleaning? Or will you take some time on select nights to tidy up? You may break up cleaning tasks into small daily activities and enlist the help of your family so you can get the job done quickly and have a lot more time for other leisure activities. Whatever schedule works best for you, just remember to stick with it as part of your New Year's resolution for your home.
7. Prepare an emergency kit.
Having an emergency survival kit gives you and your family a better chance in case the day ever comes that you need to shelter in place or evacuate after a disaster. Your emergency kit should have enough food and water to last for at least three days. It should also include a change of clothes; some cash, chargers, maps, emergency radios, flashlights, medications, and first-aid supplies, and a copy of important documents like IDs, among others. Make sure to place your emergency bag in a place where you can easily get it should you need it.
8. Address small repairs immediately.
Things like clogged gutters, cracking and peeling caulk, leaky faucets, faulty door locks, among others, are often neglected or pushed down the list of other tasks. But small nuisances, when left unchecked, can necessitate big repairs that could cost you a lot of money down the line. Make it a part of your New Year's resolutions to address such repairs as soon as possible to lessen these pain points around your home.
9. Set up a home maintenance calendar.
In continuation with the above topic, creating a home repair and maintenance schedule is an excellent addition to this list. So sit down, assess your house, and make a list of anything that will eventually need to be repaired or replaced. How old is your roof? How about your water heater? When was the last time you had the air conditioning unit inspected? Your HVAC, furnace, water heater, and other appliances, need to be serviced and cleaned as the seasons change.
Planning for preventative maintenance can help you avoid costly repairs that could result from overlooked wear and tear. Be smart and thorough when plotting out your schedule, and don't forget to keep your budget in mind when scheduling any repairs. You can start saving for those big upkeep costs as early as now to prevent nasty surprises in your finances later on.