Before You Buy A Fixer-Upper, Answer These Questions First!
Posted by Lindsey Gudger on Monday, January 21, 2019 at 10:57 AM
By Lindsey Gudger / January 21, 2019
Comment
Just like buying a move-in ready home, a fixer-upper has its fair share of advantages and disadvantages. Buying a fixer-upper can be a great way to own a home you really love once you put some work into it, but it can also quickly swallow up your savings if you aren't prepared. Just remember to do a reality check before plunging into this bargain.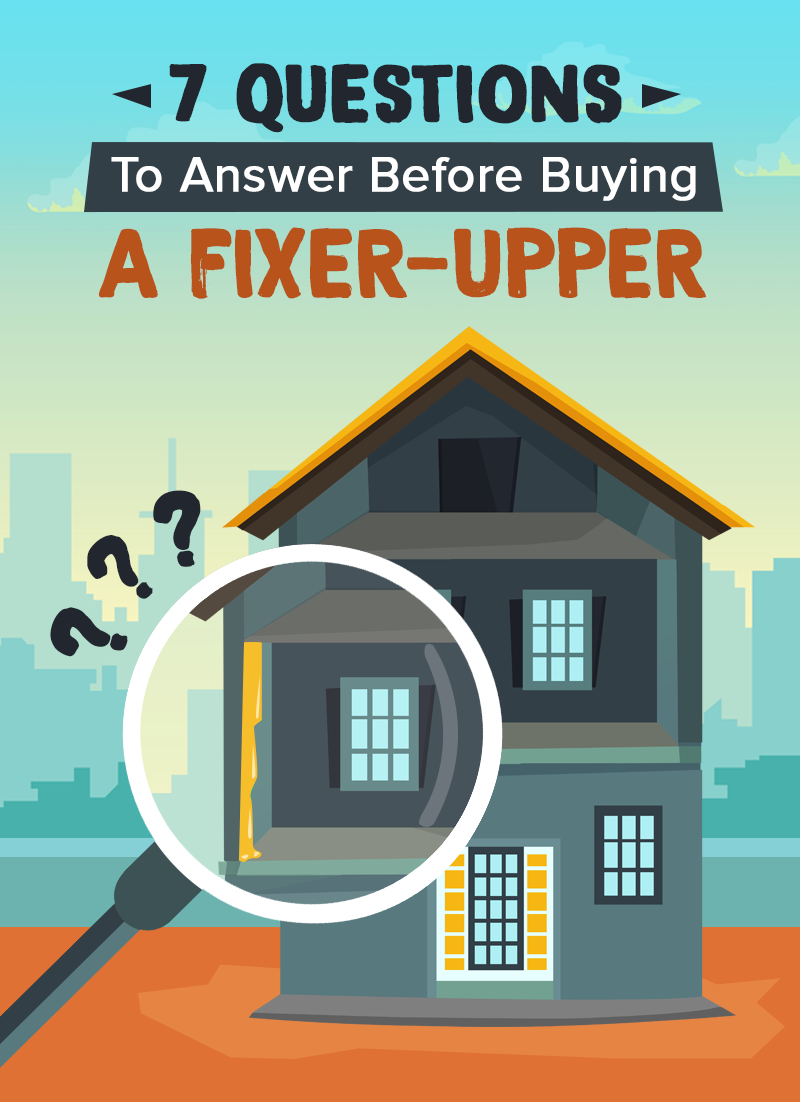 To figure out if you can and are ready to own a fixer-upper, here are seven questions to help determine whether the fixer-upper you're eyeing is right for you.
1. Is the home's location worth it?
Before you get infatuated with a fixer-upper house and all its potential, first learn about the neighborhood. Experts recommend buying "the worst house on the best block." Why? Because there's no denying that homes located in a sought-after neighborhood will positively influence the price of the "ugly duckling" that you are interested in. Well, once it has been renovated, anyway.
Most buyers choose fixer-upper homes because they loved the area first and saw the potential of a thriving neighborhood. Unlike other home buyers, they can see past the external imperfections of the house, such as peeling paint or an unkempt yard, and realize that it is in an area with sustainable growth. So to choose wisely, do your research and love the neighborhood first. Is it close to public transit for easy commutes? Are there any parks and local attractions nearby? Is it in a good school district? If you answer "yes" to one or more of these questions, it might be worth it to get your hands dirty for that bargain.
2. What kinds of problems need to be fixed?
Problems in houses can be divided into two categories: structural and cosmetic. Real estate agents warn against buying a house with structural damage, especially if there are major flaws in the foundation, septic/sewage system, roofing, siding, or other issues that affect the way a house works. You should think twice if the house has termite damage, water damage, needs serious upgrades to the electrical systems, or if there is a mold manifestation.
If you find problems like these after a home inspection, experts say it's probably best to walk away. These flaws can actually make the house dangerous to live in. They are very expensive to fix and they have to be taken care of by a licensed contractor. Likewise, environmental problems such as termite damage or radon can be mitigated, but treatments may not always be successful.
On the contrary, they say the perfect fixer-uppers are the ones that only need cosmetic upgrades. Many home buyers would scoff at these houses and simply walk away. They don't know that problems like cracked tiles, peeling paint, smelly odors, and unkempt lawns are only skin-deep and just make the house aesthetically and architecturally unappealing.
Cosmetic changes are generally less costly and can even add value to the home, especially for projects like kitchen and bathroom renovation, wallpaper removal, floor refinishing, and new lighting installation. Experts refer to fixer-uppers like these as "ugly homes"—they only need some freshening up before they're transformed into a home that anyone would want. The best advantage to purchasing this type of fixer-upper: you can choose your preferred colors, furnishings, and fixtures to make the home perfectly suited to your own taste.
3. Does it have a desirable configuration and layout?
After identifying how big the problems are, determine whether the home's layout and interior specifications are desirable—both to you and future buyers. If the house has a bad layout, just as with structural damage, it can be expensive or impractical to demolish walls and build new ones.
If it's located in a neighborhood where most of the homes only have two bedrooms, having an extra bedroom can give your home a huge advantage. A kitchen with more than one entrance is more likable, while the concept of an open floor plan is gaining popularity, especially among many millennial buyers. Those features can help make the home appealing to a large pool of potential buyers and thus can be more profitable when it's time for you to sell.
4. Can your budget handle the total costs?
There are three major things you need to include in your budget before doing any repairs: renovation costs (also include labor costs), supplies, and permits. Even before hiring a home inspector or a licensed structural engineer to evaluate the home, create a reference sheet or estimates for the costs of major repairs such as a new roof, HVAC, windows, or foundation. This way, you'll be able to tell whether fixing the home will really fall within your budget.
For cosmetic upgrades and repairs you are planning to DIY, determine the materials you'll need and how much they cost. You can get a rough estimate by checking home improvements stores and websites, such as Home Depot or Lowe's.
You also need to factor in the cost of securing permits from your town or local municipality. Permits come with corresponding fees and can be pricey depending on the town. On the other hand, moving forward with your home renovations without securing the proper permits can have many negative consequences. Check first with local officials and see which of the repair jobs require a permit, and how much they cost.
5. Can you deal with the disruption?
Do you have the time? Or, are you willing to devote a lot of time to this project? Compared to buying a move-in ready home, you have to commit a huge amount of your time to do all the work to make a fixer-upper your ideal home. For instance, the required licenses and permits may sometimes take a lot longer than expected. You also have to prepare for every aspect of the project to take longer than initially anticipated and build in as much extra time as possible in case things get delayed. Don't forget to assess your patience and emotional energy as well. Each repair project may come with unexpected issues and delays that will really test your patience and endurance.
6. Aside from hiring professionals and/or contractors, can you also DIY?
Before thinking of buying a fixer-upper, you need to consider your skills and willingness to tackle such a home. There are projects that you have to leave to the professionals and contractors—say, anything related to electricity, wiring, and plumbing. But there are minor cosmetic upgrades you can also learn and do on your own to help you save substantially on labor costs. If you're skilled enough as a DIYer, you may put on a fresh coat of paint, change the lighting fixtures, lay the tile, fix the toilet, or tear down wallpaper all by yourself.
A fixer-upper works best for those who would happily spend their time replacing cabinets and refinishing floors, and would want to get their hands dirty to make their home more habitable and profitable. Experts also call this concept "sweat equity." By doing some part of the work yourself, you're improving your home's value and even adding greater value to your home. Likewise, the more you can do on your own (just as long as it's still safe enough for an amateur), the less you need to spend on labor cost and instead allocate a part of your budget in buying high-quality materials.
7. Can you tap into any home improvement loans or programs?
Financing a fixer-upper can be extremely difficult. But if you're really interested in buying and restoring a house, do your research and see if you can qualify for any home improvement loans. Your most popular choices are the FHA 203(k) loan, the Fannie Mae HomeStyle loan, and the Section 504 Home Repair program. Just remember that all loans have their own strict standards and eligibility requirements.
For example, a 203(k) loan is backed by the Federal Housing Administration, which means you can put as little as a 3.5% down. Lenders can also accept lower interest rates than what a typical home renovation loan would require. Moreover, it is also open to borrowers who have a less-than-stellar credit rating and can cover big-ticket issues such as structural damage and plumbing replacement.
Before getting a renovation loan, make sure you've explored all your options and understand the pros and cons of each program. Also, keep in mind that you generally need to be pre-approved with these loans before you can make an offer on a house.
The work that it takes to renovate a fixer-upper should not be underestimated. A project like this can eat away at your time, effort, money, patience, and even your sanity. And once you close on a fixer-upper, there is no turning back. The only way forward is to put in the necessary effort to transform it. For the right buyer, though, turning an "ugly duckling" into a beautiful swan—a beautiful home—is a challenge well worth the effort and can mean living in your dream home...making a significant profit when you sell.