For Military Members and Their Families: 10 Things to Consider Before Getting Into Home Ownership
Posted by Lindsey Gudger on Friday, January 5, 2018 at 5:46 PM
By Lindsey Gudger / January 5, 2018
Comment
For active-duty military members and their families, purchasing a family home is a complex and weighty decision.
Following their Permanent Change of Station (PCS) move, the decision to buy a piece of the American dream they fought to protect could be affected by numerous financial and personal factors. Here are some things military members and their families should consider before deciding to buy their next home: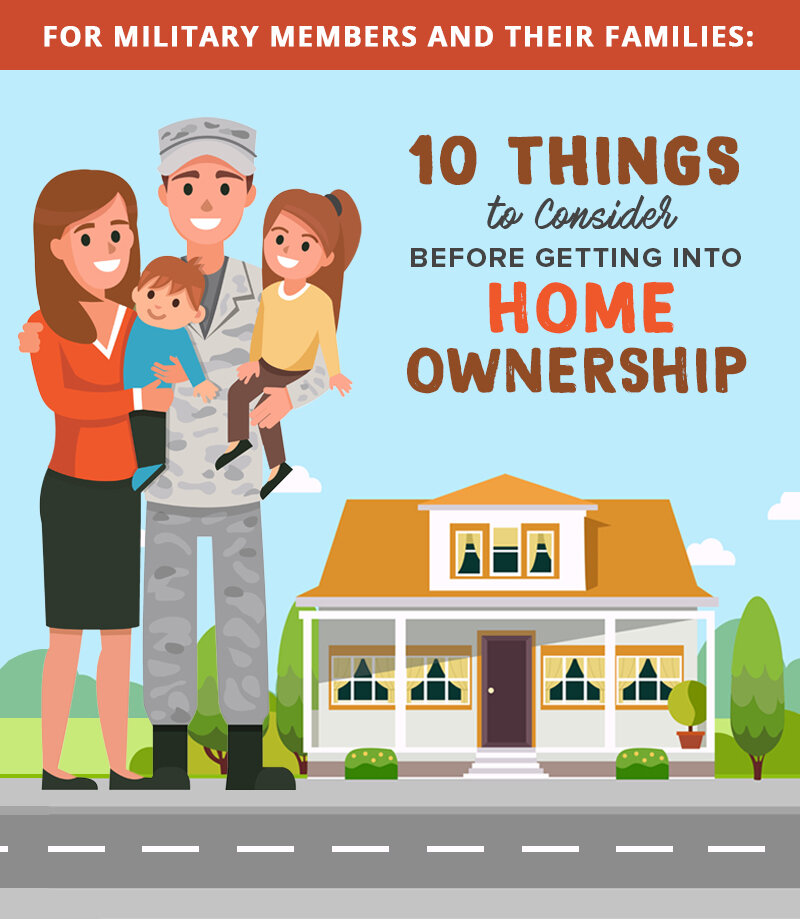 #1 Cost and Monthly Payment
Among many active military families, there is a great debate regarding the cost of renting vs buying a home and paying the monthly mortgage. Rental costs and average home prices may vary greatly depending on where you are moving in the US.
#2 Market Prices
Aside from mortgage and downpayment, military homebuyers must also consider other factors such as the average price within the local area, the rate of foreclosure, and the condition of the local market.
It is best to consult a local military-friendly real estate agent, whom you can discuss with other factors that will increase your monthly cost, including real estate taxes, HOA fees, and the cost of insurance, among others.
#3 Tax Benefits
When you own a home, you get to deduct the mortgage interest you pay on your loan from your taxes. This tax benefit lowers your monthly home expenses. You should consider calculating your tax benefits vs your actual costs for you to determine your cost of ownership.
Likewise, when it comes to property taxes, you know you're paying for a home that you really own. Those property taxes are also deductible from taxable income on your federal income tax return and some state income tax returns, and thus offer you additional income tax savings.
#4 Using Your Basic Allowance for Housing (BAH)
Many military members receive a monthly housing allowance, and what most of them don't know is that they can use this money to qualify for a home loan. Especially in higher-cost areas where the service member wants to move, BAH can help them make that big transition.
BAH is a tool that can help lenders gauge what kind of mortgage payment an eligible veteran can handle. This housing allowance is based on several factors and can change on an annual basis, so it's important to consider this as well.
#5 Eligibility for a VA Home Loan
If you've chosen to finance your home using Veterans Affairs (VA) home loans, be aware of the eligibility requirements and how it may impact your future relocation.
VA home loans are flexible loans that come with outstanding benefits like no down payment, no mortgage insurance, and more lenient credit requirements. VA loans are best for the purchase of your family's primary residence.
#6 Expected Time in Current Duty Station
Because military members may be called upon to deploy or change duty stations at any moment, there should be a compelling reason to buy a home. You'll want to consider closing costs ahead of time when you buy and sell. It may help to also assess the expected costs of purchasing and subsequently selling your home.
#7 Potential For Renting Or Selling The Property
There is a need to ensure that a purchased home is one that can be very marketable for the purposes of selling or renting. It's important to know the best type of home that people are buying or renting in a certain area.
Moreover, if you're considering purchasing a home near a military base of operations, chances are you'll be able to rent or sell the property to other military personnel who wants a home of their own.
Personal and Emotional Consideration
#8 Personal Concerns
Even before all financial considerations, you should know yourself whether you are ready to buy or not. Are you ready to call yourself a homeowner or a landlord? Are you ready to have another responsibility? Will you be able to handle the necessary repairs and maintenance associated with home ownership? Are you looking at it as part of an investment? These are just some of the questions you need to ask yourself before making that big decision to buy.
#9 Proximity to Family and Friends
Your family, friends and loved ones are your support system. If you're used to living near them, you probably don't want to be stuck in a place where you're all alone or where it may take a long ride for you to visit them. However, compared to renting, even owning a home in a new neighborhood could give you a sense of belonging and stability.
#10 Retirement Considerations and Future Plans
This may be connected to your financial concerns and stability, but it can be personal as well. If you are stationed in an area where you may soon want to retire, consider the state tax rates, treatment of military pay and benefits, and whether your potential home is near any military healthcare facilities. Thinking of these things ahead of time is also taking care of your physical and financial health in the future.