Home Buyers: Here are 5 Expert Tips To Ensure A Smooth Closing
Posted by Lindsey Gudger on Friday, November 5, 2021 at 1:49 PM
By Lindsey Gudger / November 5, 2021
Comment
As you approach closing, the pinnacle of your home buying journey, you'd want nothing to go wrong. But with many hurdles or complications that could get in the way before you finally hold your house keys, expect the process to be more stressful and overwhelming.
With a real estate agent by your side, you're at least assured that the closing will be streamlined and become more bearable. But still, you have to know what to expect and do some legwork to help make it go as smoothly as possible. Here are several things you can do to prevent potential problems and close the deal with fewer hiccups: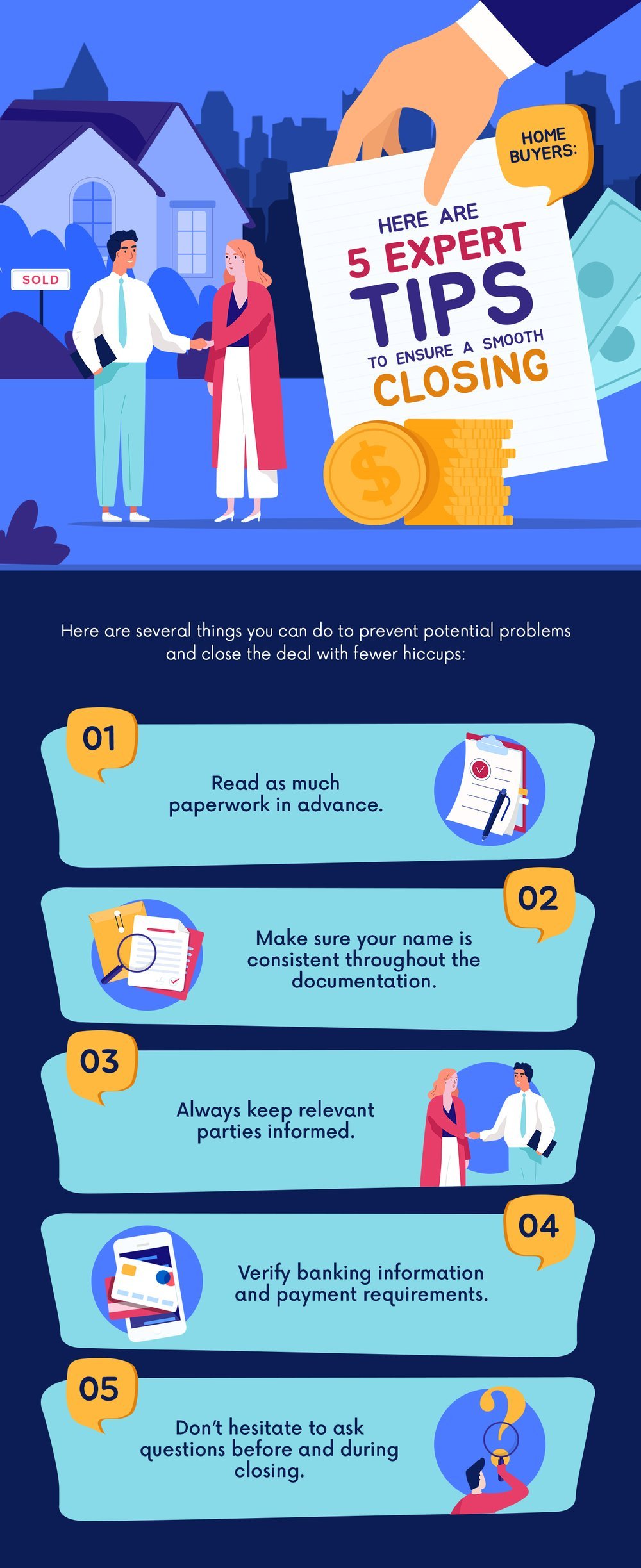 1. Read as much paperwork in advance.
Last-minute delays at real estate closings are often caused by problems with paperwork.
You are making the biggest purchase of your life, so it's critical you understand every detail of your contracts. Get a head start on reviewing the paperwork as much as you can. Read every word carefully in the documents and emails being sent to you, and read everything again and again if needed.
Doing so will give you ample time to make notes, ask questions, or address any misunderstandings in advance. This way, you won't find yourself looking over the documents while everyone is sitting and watching. While there's nothing wrong with taking your time during closing day, it might make you feel uncomfortable causing you to skip valuable details when signing.
2. Make sure your name is consistent throughout the documentation.
No alias, nicknames, or stage names are allowed when it comes to real estate transactions.
You will be required to provide a government ID at closing. If your name on the ID doesn't match your paperwork, you will have to either get a new ID that matches the one on the paperwork or redo the paperwork to match the name on the ID. This might be the case if you recently got married or divorced and failed to update your driver's license with the name change. Either way, just know that you will not be able to close your house on that day.
To avoid this complication, make sure your state-issued ID has your current name on it and double-check your name's spelling on the paperwork. Likewise, always share your full legal name with the lender, your real estate agent, and the title officer when carrying out the deal.
3. Always keep relevant parties informed.
The real estate deal doesn't just involve the buyer and the seller but also other relevant parties—the buyer's agent, the seller's agent, the lender, the title representative, and sometimes even a real estate attorney and an accountant.
Any changes that occur prior to closing, whether you've changed jobs, were furloughed, or you've made a deal with the seller about any last-minute repair, are important that your agent and lender are notified. Your paperwork must reflect any of these deals, which means you have to keep these relevant people in the know to protect yourself and avoid any delays at closing.
4. Verify banking information and payment requirements.
Before sending money via wire transfer or a cashier's check, ask questions about payment requirements and verify that all the information needed for the transfer is correct.
Aside from your down payment which you have to pay upfront at closing, you also have to cover other closing costs, which means a huge amount of money will be moved around. Aside from making sure that the information is correct, check that the amount needed for closing costs is correct. The title company representative or the attorney will provide you with the exact amount required and how it should be paid, such as by wiring the funds in advance of the appointment.
If the attorney is requesting a wire transfer, remember that those instructions will never be emailed. To avoid falling victim to wire fraud, be vigilant and call the attorney or your real estate agent first to verify the wiring instructions. You want to guarantee that the person contacting you about the transfer of funds is the verified person instead of a scam artist.
5. Don't hesitate to ask questions before and during closing.
If there are any words or terms you don't understand? Just ask.
No question is too big or too small, especially when it comes to the complicated world of real estate. Whether it's your first or even third time buying a home, it's easy to get scared and overwhelmed. To ease some of that anxiety, call the title company before the closing day and ask them to walk you through the transaction. Clarify any issue that's been bothering you or anything that's still unclear about the contract. Don't forget to also prepare and ask your agent and title officer questions during the closing. All of these measures will help the process go smoothly during closing day.