Home Improvements and Repairs That Add The Most Value
Posted by Lindsey Gudger on Friday, July 24, 2020 at 4:30 PM
By Lindsey Gudger / July 24, 2020
Comment
Part 2 of Everything You Need To Know About Your Home's Value series
In the real estate industry's viewpoint, a home's condition can be classified into four categories: poor, fair, good, and excellent. Whenever you're considering any renovation for your home, don't forget to ask yourself these questions first: "Am I taking the condition of my home into a 'good' condition?", and "What will this update do in terms of value?"
Even if you can't see yourself moving in the near future, home improvements have an impact on your home's value and appraisal. And the reality is that not all remodelling projects or upgrades will increase your home's value enough to recoup the entire cost of the improvement. In some cases, although it will add great satisfaction to you and your family, an upgrade may not increase the value of your property and may even bring it down when it's time for you to sell.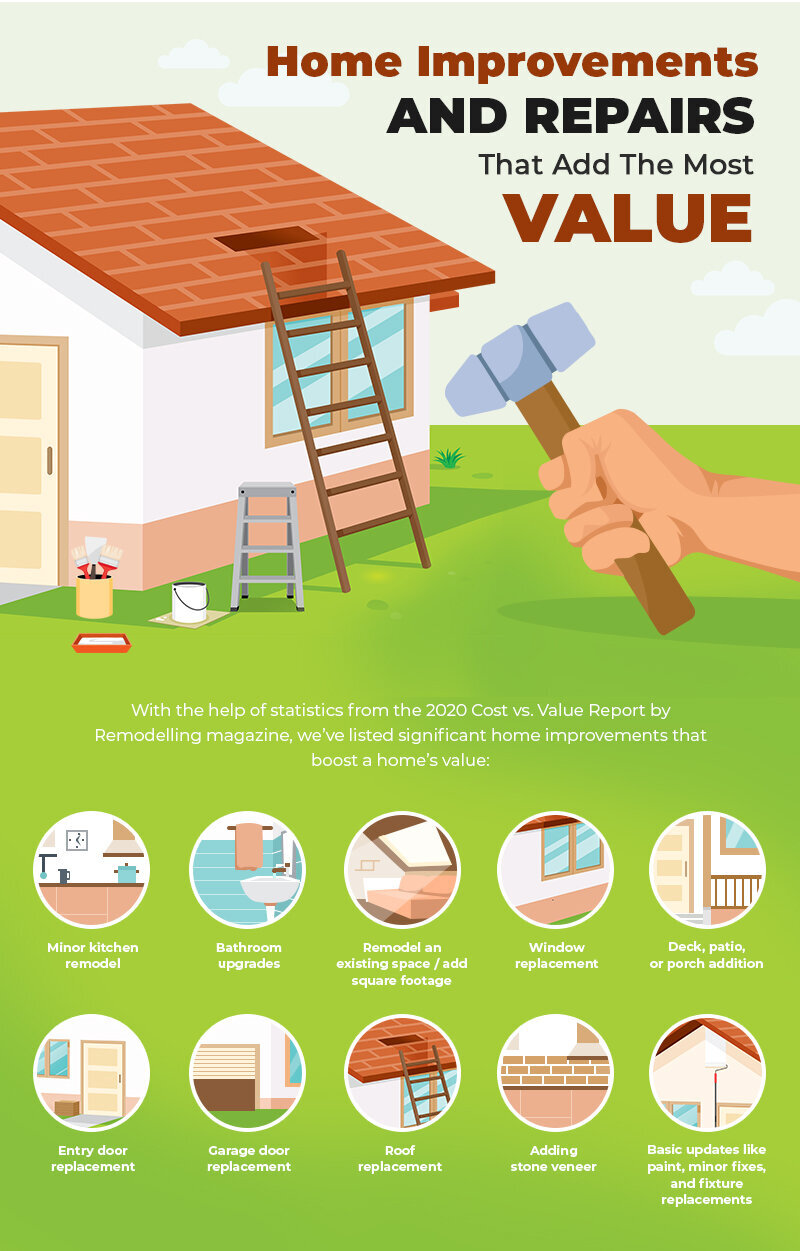 With the help of statistics from the 2020 Cost vs. Value Report by Remodelling magazine, we've listed significant home improvements that boost a home's value:
Because the kitchen is considered the heart of the home, updates in this space generally pay off. A minor kitchen remodel has an average cost of more than $23,000, and recovers about 78% of your spend at resale, compared to an upscale one which has a lower return on investment. It's a key money saver and also the best choice if your space just needs a cosmetic update.
For example, putting a fresh coat of paint can go a long way in updating the look of your kitchen. Consider using low-VOC paint to make it more eco-friendly. Other projects may include replacing cabinet fronts with an updated style and adding recessed lighting to brighten the countertops. Also, small, inexpensive upgrades such as adding matching drawer knobs, cabinet pulls, and faucets can easily add a modern touch to the room but can have a big impact when it's time to sell.
A midrange bath remodel can recoup as much as 64% during resale. And just like with the kitchen, you can give your bathroom a face-lift just by swapping out fixtures. Simple fixes such as replacing the vanity lights, removing dated wall coverings, and replacing old shower doors can usually do the trick. To make it more energy-efficient, replace your old toilet with a low-flow model that uses less water per flush.
But if your home has only one bathroom, it might be better to spend money on adding a second bath or a half-bath rather than remodelling your existing one. A new bathroom will not only improve your home's interior but can also raise its value. It might be less costly to convert any small or underutilized space, such as a walk-in closet, an area under the staircase, or an old laundry room, although it still depends largely on the items and accessories you will use. Yet, a half-bathroom is critical for homes without a bathroom on the main level, especially during this unique time where we have to keep germs from spreading into our home.
Remodel an existing space/add square footage
If you can remodel and utilize unused areas, such as your attic or basement, it's a good way to boost value and add square footage to your home. You may opt to finish a basement and reinvent it into an entertainment bar, a game room, or a second living room; convert the attic space into a bedroom or a kids' playroom; or turn a walk-in closet into a home office that's perfect for many professionals nowadays.
This way, even if you're planning to stay in the home for a few more years, the extra space will be enjoyed and benefit your family. And once you're ready to sell, having a versatile room that can be converted into anything will have a great appeal to prospective buyers.
Old, drafty single-pane windows are now a major turn-off for many potential buyers, especially if energy efficiency is in mind. This must be one of the reasons why replacing double-hung windows with insulated, low-E (low-emissivity) vinyl windows recovers about 73% of the costs, according to Remodelling magazine's report. Windows with low-E coatings help keep the temperature in a home consistent by reflecting the interior temperatures back inside. Likewise, modern windows don't only help with energy savings but also add curb appeal to a home.
Deck, patio, or porch addition
Due to previous lockdowns and stay-at-home orders caused by the COVID-19 pandemic, outdoor living spaces have become more desirable. In the latest survey of Realtor.com® and Toluna Insights on what homeowners wish they could change about their home to make it more livable while sheltering in, 9% of respondents wanted to add a yard or patio. Having plenty of yard space has become the ideal as we continue our lives under the new normal.
Adding a deck is one way to upgrade your outdoor living space and increase your home's value. While it can cost anywhere from $14,000 to $19,000 on national average, it can recoup as much as 72% during resale. Again, however, it still depends on the design and materials you use.
If a facelift is all you need, consider improving your deck or patio by adding small details such as decorative planters, lighting, and other features that will make it more attractive and also enhance your home's curb appeal.
Replacing your front door with a new steel entry door has had the best return on investment every year. It's no wonder because a home with old doors that let in plenty of hot and cold air can be a huge turn-off to potential buyers as it might be more costly to live in and maintain. According to the report, an average steel entry door replacement costs more than $1,800 and returns almost 69% at resale. More buyers will appreciate the energy efficiency, low maintenance, and cold-blocking powers of metal.
On the other hand, a new garage door is one project that practically pays for itself, recouping about 95% of your costs at resale. A garage door upgrade also helps make a good impression to guests and buyers, improve security, and contribute to your home's curb appeal.
Replacing a roof might be considered by many as a maintenance project, and it's certainly not a show-stopping improvement like a kitchen renovation. However, it's one update that can boost your home's value and on average, you can recover almost 66% of its cost when it's time to sell. Buyers also appreciate a new roof because they know it will save them the hassle and expenses brought by a new roof installation. It's especially crucial to update your roof if it is already leaking and is nearing the end of its lifespan as it could hurt the value of your home.
Installing manufactured stone veneer doesn't only make your home more beautiful but also increases the value of your property. According to the 2020 Cost vs Value Report, this update costs an average of $9,357, but recovers as much as 96% in resale value. It's also a versatile project that you can add in any part of your home, may it be on the front porch, around the fireplace, or as a feature wall in the kitchen or bathroom.
Basic updates like paint, minor fixes, and fixture replacements
Never underestimate the power of doing basic updates to boost your home's value. Small, inexpensive projects like touching up on any flaking or chipping paint, removing dirt and mold, painting the front door, replacing old door knobs and handles, and even updating your mailbox, can help keep your home in tip-top shape that will show buyers that you have a safe and well-maintained home.
Bottom Line
Kitchen and bathroom remodels continue to be the two of the best investments you can make in your home to boost its appraisal and resale value. These areas are where people spend the most time in their homes, so experts say you can almost always tell if money has been well spent or not. Also, whether your goal is to enjoy your home more or make the most return on investment when it's time to sell, remember to never go overboard and never make a space fancier than the rest of the house or the neighborhood.