Home Viewing Etiquette For Buyers
Posted by Lindsey Gudger on Friday, June 15, 2018 at 3:58 PM
By Lindsey Gudger / June 15, 2018
Comment
Before landing your dream home, the first order of business would be the initial process of finding it. Buyers should expect a lot of tours before finding "the one"--but although sellers are often the ones who have to "impress," buyers should not be too lax about their behavior. If competition ends up being tight, the seller is bound to choose a buyer they really like (with a strong offer to match, of course), which means that you'll likely score low if you were an obnoxious home viewer during the open house.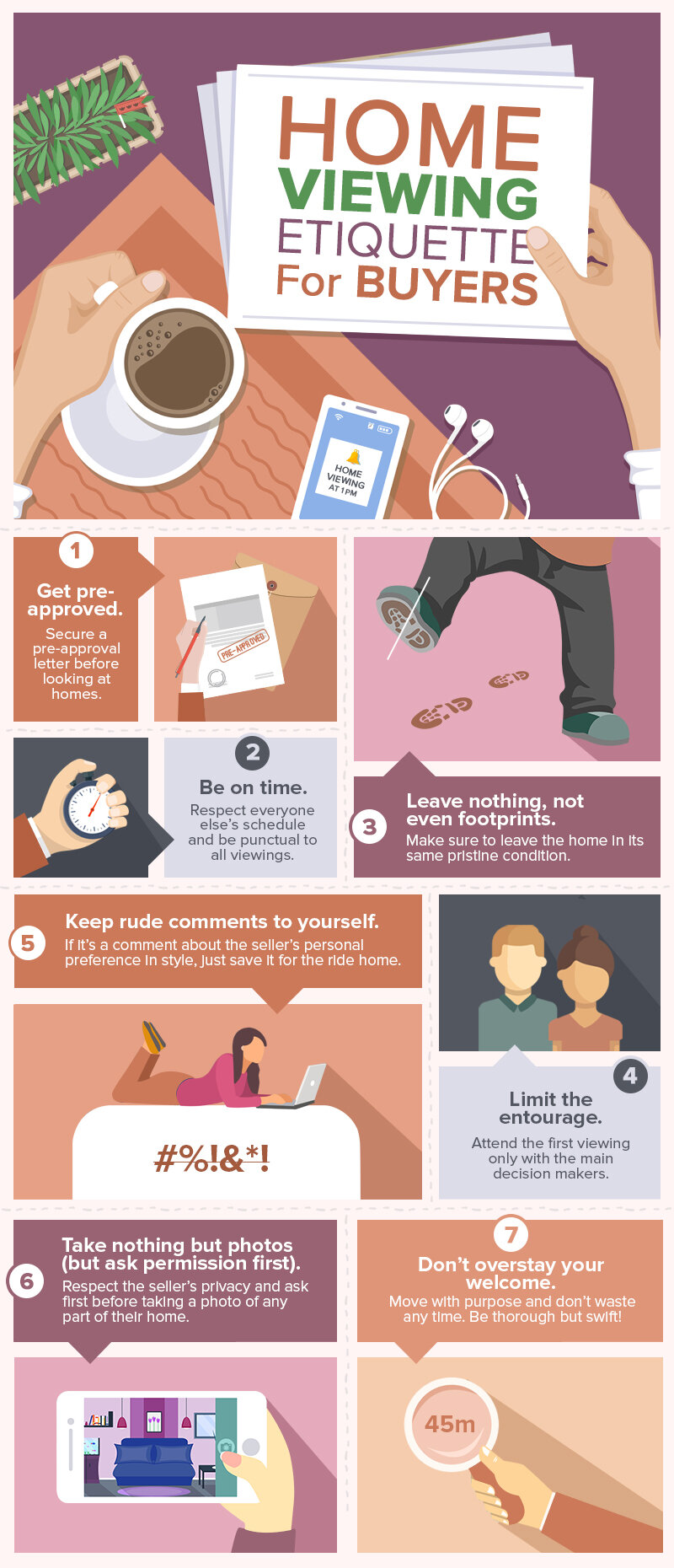 How should a buyer act during an open house?

We can all agree that any buyer would love the idea of getting a great deal, but arrogance and poor etiquette can sometimes enter the equation when the buyer is too focused on getting what he or she wants.
Remember: Respect for sellers, real estate agents and even your competition is crucial. Being an obnoxious home buyer could actually cost you in the hunt for your dream home. Here's how you can remain professional and at your best behavior at all times:
1. Get pre-approved.
Perhaps the first thing any buyer must have before shopping for a home is a pre-approval letter from a lender. Looking at a house without knowing if you'll be granted a mortgage is simply misleading--and could potentially waste the seller's precious selling time.
A mortgage pre-approval is proof of your capability to finance the home, and sellers often don't entertain buyers without a legitimate letter in hand.
2. Be on time.
Being punctual is a sign of respect for the seller's time and effort. Arrive at the agreed-upon time, and call to inform the realtor or seller if you're running late. While uncontrollable circumstances may cause some delay, it is unacceptable to make last minute changes, especially if it is a private home viewing and serious preparations have been made on the seller's end. If you asked the seller to leave for the viewing, you should definitely show up on time.
3. Leave nothing, not even footprints.
The house you'll be touring is sure to have been de-cluttered, deep-cleaned, kept shiny and left odor-free for your arrival, and it would be expected of you to extend the same amount of graciousness and courtesy by leaving the home as it was before you entered.
Avoid bringing in food and drinks (they'll offer you some, anyway), and make sure that your shoes don't leave any kind of marks on the floor. Ask the seller or realtor where you can wipe off the dirt under your shoes before entering--or better yet, just leave your shoes at the door.
4. Limit the entourage.
It is understandable for the entire family to want to see all the houses during the hunt, but you may want to save the family field trip for later (when you've narrowed down your choices to the final three). Bringing your children can lead to too much mess and noise, and it's just rude to have unruly grade schoolers running around a house that was professionally staged for an adult viewing.
5. Keep rude comments to yourself.
While it is perfectly acceptable to voice out serious concerns about the home, it is best to keep opinions on taste and style to yourself. If you find the wall colors a little too playful for your liking, or if you think the paintings that are hung up on the living room are a little tacky -- it is best to just save the conversation for when you're outside the house. These are things that could easily be remedied once you decide to buy the home, so don't risk offending the seller by rudely commenting on their personal preferences.
6. Take nothing but photos (but ask permission first).
It should go without saying that you should NOT take anything from the home, and that it is your responsibility to make sure your children aren't lurking around the rooms and putting things in their pockets. The only thing you can take with you are photos, but only after you've asked the seller or realtor permission. If the sellers are still living in the home, they may find it a little invasive for you to take too many photos. Ask them about any privacy concerns, and take your photos accordingly.
7. Don't overstay your welcome.
Of course you want to see every corner of the home, since you may end up living in it--but make sure to walk through the house with purpose so as not to waste any time. Make a list of all the things you want to check in the home, and move through and around it with specific goals. Time is the seller's most important resource during the home's listing period, so limit your tour to 45 minutes, or 1 hour tops.