Homeowners, Make Sure You Leave These Repair Tasks To The Pros
Posted by Lindsey Gudger on Friday, August 20, 2021 at 3:41 PM
By Lindsey Gudger / August 20, 2021
Comment
There are several reasons why homeowners choose to DIY various home repair projects. It might be due to budget limitations, to save money, or just to enjoy a good challenge and proudly build sweat equity.
However, substantial tasks are considered too technical, too difficult, or just too unsafe to be tackled by anyone untrained. Oftentimes, one wrong move when handling them can result in serious damage that could cost a small fortune to fix. If you've got plans to sell your current home, you might also have to disclose any unpermitted work to potential buyers, which can hurt your sales price.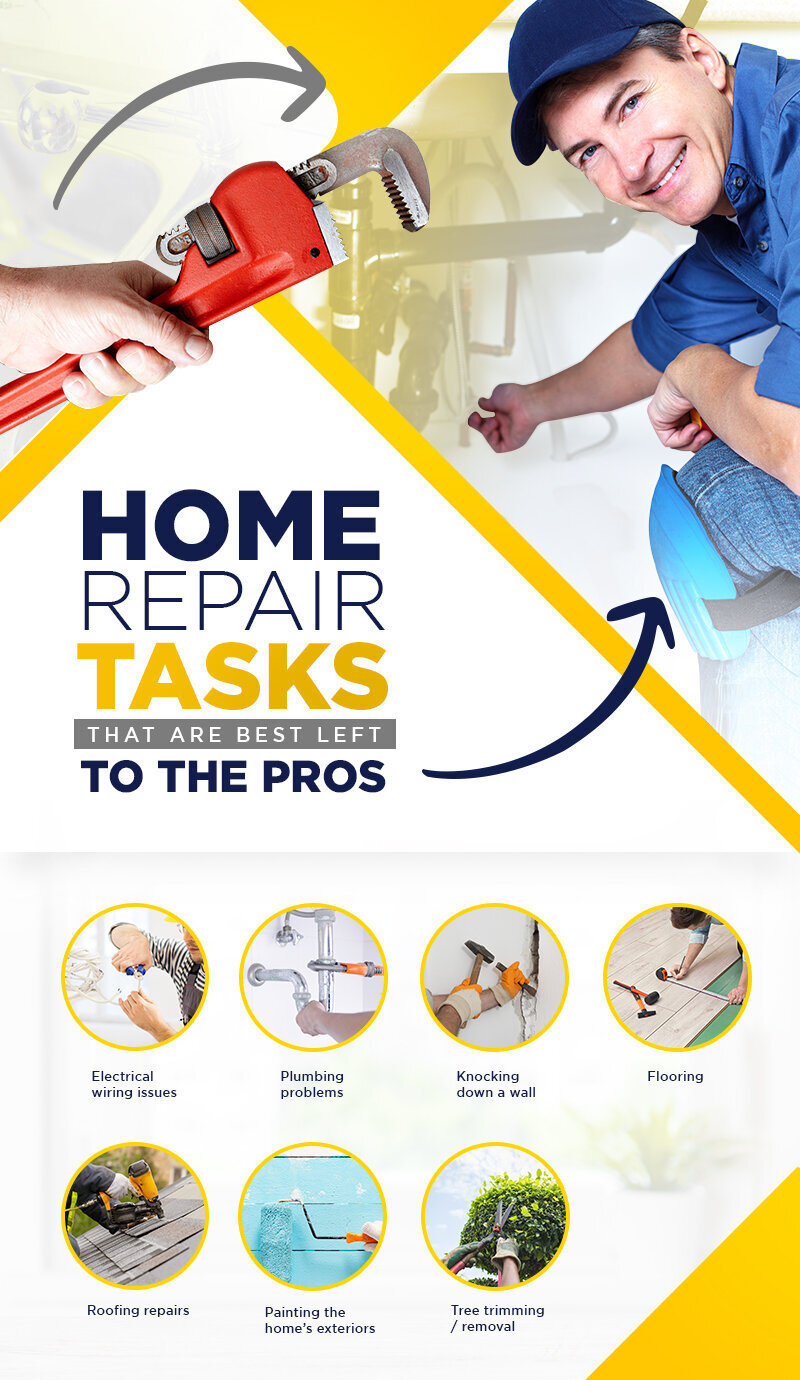 Here we discuss some guidelines on what home maintenance and repair jobs are best left to the hands of professionals who have the critical knowledge and experience, so you can avoid wasting more time and money in the long run.
Electrical Wiring Issues
While changing your lightbulbs is simple, any other complicated tasks that involve working with electrical circuits, wiring issues, or running new cables throughout your home should be left in the hands of a licensed electrician. Working on your home's electrical system is extremely dangerous, especially if you don't know what you're doing. For starters, you could end up with fried appliances and faulty connections. But worst case scenarios include accidents that can cause electrocution or start fires, putting both your safety and your home at a huge risk. Doing it the wrong way can also create problems in the future when you try to sell your home.
Even though you can read or view tutorials online, there's no way to know for sure whether they are appropriate for your situation. And even if you can buy the materials you need, that doesn't mean you can install them correctly. There are very strict codes in place when it comes to where and how electrical switches, outlets, and appliances should be installed. Moreover, you need appropriate permits and to have your work inspected. Once you end up calling out the pros because you can't get the work done, there's a chance that they will not work on homeowner purchased materials due to warranty issues.
Plumbing Problems
Similar to electrical issues, plumbing issues can also be tricky to handle. Plumbing involves a delicate network of pipes that need to be installed in a specific way to ensure everything works properly. Any DIY home repair that causes burst pipes or leaks could open the door for potential water damage. When these leaks or broken pipes are found within walls, or difficult to detect, it can become a serious issue.
This is why anything bigger than cleaning clogged sinks and bathtub drains should be handled by a plumber. It's even relatively cheaper to hire a professional plumber for small tasks, like installing a new faucet or shower, from the start than to contact them once the DIY installation has gone awry. Water damage can be very costly to repair. Likewise, a leak caused by improperly installed toilets or bathtubs could also lead to hazardous mold, rotting wood, structural damage, and more—all of which are much more pricey to repair than contacting a plumber in the first place.
Knocking Down a Wall
It's an exciting scenario often played out in many home renovation shows: homeowners holding a sledgehammer to knock down a wall, usually dividing the kitchen and dining room, to give way for an open floor plan.
In reality, however, you might need to think twice before ripping out any wall by yourself. Some walls are called "load-bearing walls," which means they distribute the weight of the house, ceiling, and roof across more surface area. Ripping out a wall like this could cause serious structural damage to your home. Some walls could also be supporting another part of the house, or have electrical, plumbing, or HVAC materials nestled inside, which means there's a huge possibility of running into or damaging any of these materials.
Even if that wall may not be load-bearing, it's also important to take into account where your ceiling joists are located because your wall might also be supplying their support. These are challenges that are best handled by a licensed and insured contractor, preferably by a structural engineer or architect, as they can help determine the best ways to address the issue. Also remember that these kinds of work require special permits, and doing so sans permit could result in a hefty fine.
Flooring
Whether it's carpet, wood, or tile, there's much more to flooring than ripping up the old and replacing them with new ones. There are several steps involved, especially in preparing the surface. You could find the previous flooring material damaged or in serious need of staining. You shouldn't even be surprised if you find the subfloor to be cracked and rotten, which certainly is the first thing to address before doing anything else.
If you're eyeing DIY tile work, for instance, remember that there's a lot more to it than laying the tiles in a straight line. Many things could go wrong, from choosing the right kind of tiles, measuring and cutting them to fit around corners and obstacles, as well as grouting and sealing. Of course, it could also take up far longer than it should, wasting your time that could be better spent on other things.
Roofing Repairs
Any roofing repair job, such as replacing missing shingles or any damaged materials, is another home maintenance project where many things have the potential to go wrong when done without the help of a professional. One wrong move or loose tile could send you over the edge, causing fall-related injuries. The roof is what protects your home from the elements, and one mistake in an attempt to fix it could also result in roof leaks, wrong shingle placement, and improper insulation. In addition, poorly executed roofing work will likely look uneven and be very noticeable from the outside, which will affect your home's curb appeal, and consequently, your resale value.
While you can watch and learn from online videos, it's better to rely on the expertise of a trusted roofer to ensure that everything is done well and on time. These professionals are equipped with complete safety gear and know-how so they can work safely on your roof. They also have the experience to completely patch or replace parts of your roof so that you don't run the risk of water damage and even mold in the future.
Painting the Home's Exteriors
DIY painting your home's interior walls is one of the cheapest and easiest ways to transform a room and give it an instant makeover. Exterior painting, however, has its own set of challenges that are best handled by experts. It requires extensive prep and even repair work, which could depend on many factors, including your home's siding material, height, design, when was it last painted, and others. If you don't complete this prep work properly, you could compromise your exterior paint job.
The best professional exterior painters will make sure to identify any areas where the exterior of your home has been compromised, either with water damage, wet or dry rot, or any other issues that would cause problems with the new paint job. These repairs should be addressed first or else the new paint will crack and bubble, which could bring further damage to your home.
Plus, exterior painting requires long, tedious hours outside in the sun and many trips going up and down the ladders or scaffolding. This goes especially true for taller homes, or those with ornate styles where accessibility could be an issue. Even if you're an experienced handyperson, you need to consider your safety and whether it's more worth it to paint your house yourself or hire an expert instead.
Tree Trimming/Removal
While it might be tempting to trim or remove a few trees from your property all by yourself in an attempt to save money, it's not as easy as you think. The drawbacks could outweigh the advantages, especially when there's a possibility of injury from falling or electrocution.
Cutting trees safely involves a lot of math, science, and experience that only a professional tree trimmer, arborist, or tree surgeon could provide. Their trained eyes know where the danger lies or which branches are rotten or weak, and they have specialized safety tools, equipment, and safety training in climbing. Trimming or removing trees, especially those near power lines, is a job that's always better left to the hands of experts.