How To Determine The Best Time To List Your Home For Sale
Posted by Lindsey Gudger on Wednesday, May 2, 2018 at 9:20 AM
By Lindsey Gudger / May 2, 2018
Comment
Much like any business venture, listing your home for sale is all about finding the best possible timing.
The best case scenario would be one in which the sale happens while the market is at its best, at the same time you are prepared to leave, and to buyers that are motivated to pay more.
However, the right time to sell is not the same for everyone --it will all depend on why you are selling your home in the first place. Some may have to sacrifice a bit due to time constraints, but finding the perfect time to sell is possible within a certain time frame.
Here are important guidelines to consider when thinking of the right time to sell your house: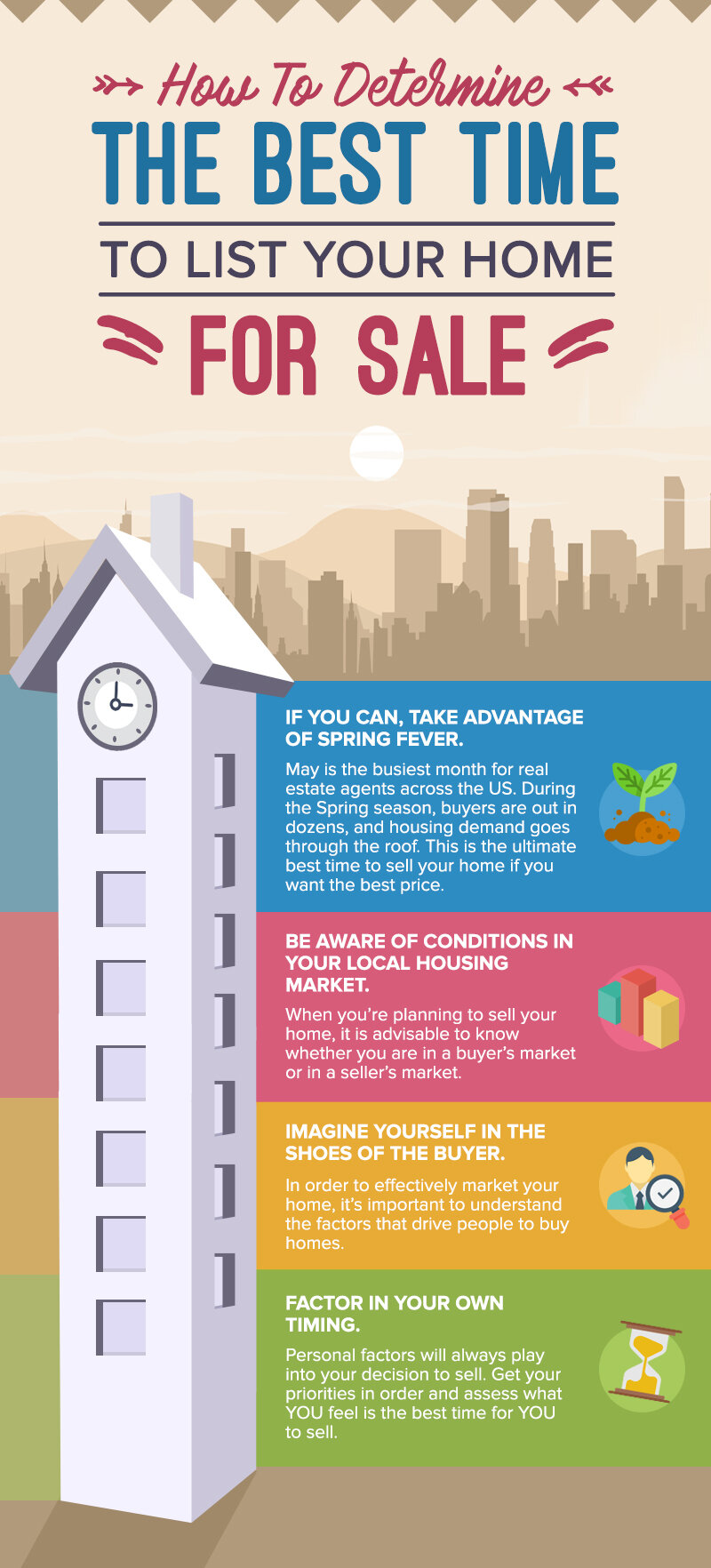 If you can, take advantage of the Spring fever.
According to Zillow research, homes sell fastest and for more money from May 1 to May 15. They call it "the magic window" to sell your home, since buyers who started house hunting in early Spring will want to get settled into a new home before the school year begins, and are most likely to bid higher. During this window, homes can sell up to 18.5 days faster with a premium of $1,700 on average for a median home.
If you're not in a rush to sell, you can start prepping your home for sale after the Christmas holidays, and make renovations early in the year so that your house can be in perfect form for viewing during this "magic window."
Be aware of conditions in your local housing market.
A buyer's market happens when the demand is low and housing supply is abundant, causing some sellers to settle below listing price just to get their houses off the market after its been there for quite a while. Naturally, you'd be better off selling your house in a seller's market, where supply is low and demand is high. This puts you in the lucky position of possibly getting multiple offers, which causes a bidding war and drives up the value of your home.
Imagine yourself in the shoes of the buyer.
Low mortgage rates inspire first-time home buyers to take the leap and buy their first homes. They're even more likely to pay more, since low monthly payments give buyers the confidence to go for the house they want.
This can be a bit harder to track, but it would also benefit you to know about any local and state news on tax incentives and tax laws, as most potential buyers are encouraged to finally buy a home when tax incentives on purchases are looking good.
It may also be beneficial to consider the reasons why you decided to buy this house in the first place, since you can also leverage this when the time comes.
Factor in your own timing.
While it's tempting to wait until when it makes the most sense financially, not everyone will have the luxury of waiting until May to sell if they have to move across the country six months before that. Even if you choose to wait it out and rent until the house gets sold, any financial benefit you may get from it will only offset the expense of having to pay for two properties during the waiting period.
For some people, however, it's not always about getting the highest price possible for the home they're selling (although if it can be worked out, why not?). If you're looking to buy a house where the market is slow, it could make sense to sell your previous house right now and buy a new one right away so that you can take advantage of the benefits of buying in a buyer's market. Or, if you've found the perfect house and need to make a bid on it soon, selling your current home as soon as possible can be your best move.
Again, it all comes down to your reasons for selling. Determine what you prioritize the most and time your sale accordingly. Keep in close contact with your real estate agent and communicate your goals openly. This way, you can both agree on YOUR best time to list your home for sale.
Best of luck, home sellers!