How To Sell Your Home And Buy One At The Same Time (Or In The Quickest Possible Succession)
Posted by Lindsey Gudger on Tuesday, April 24, 2018 at 9:22 AM
By Lindsey Gudger / April 24, 2018
Comment
For some people with enough funds and other houses to live in, selling a home and buying one at the same time can be relatively easy since there is not much pressure involved. But for those who need the equity from their old house to buy a new one, things can get quite stressful--especially so when they have no other place to go while trying to sell the house they're living in.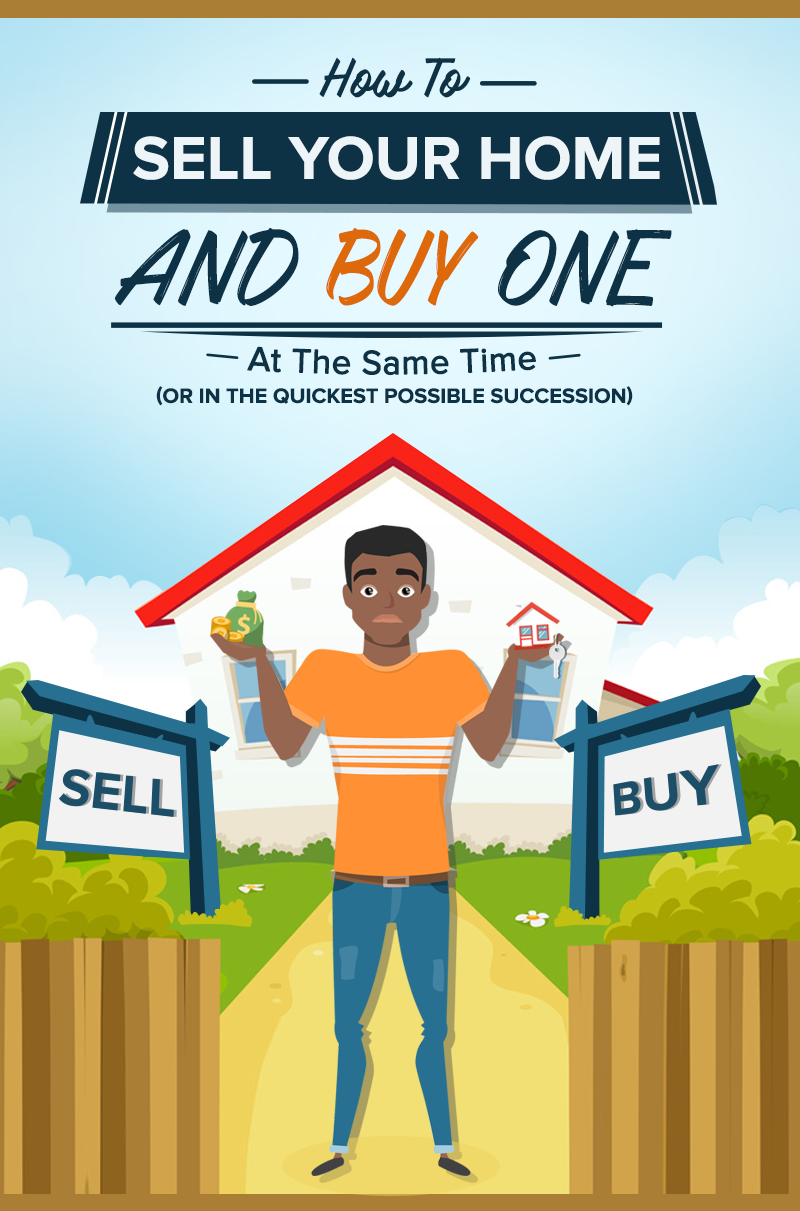 Most people caught in this situation have a number of options at their disposal. However, one must be aware of the factors that should affect his or her decision. Below is a guide on how to successfully pull off this feat, depending on what scenario you might be in:
Scenarios in which you have to SELL FIRST:
Scenario #1: You're in a seller's market in which you'll be caught in a bidding war for the house you want to buy.
In hot markets, it's unlikely for you to stand a chance in a bidding war if you make an offer contingent on the sale of your current home. If you're up against multiple buyers, the best way you can stand out is to make a clean offer, with no contingency. Since you've already sold your home, you'll have enough cash on hand to make this possible.
The game plan:
Find a reasonably priced rental with flexible terms, and stay there while staging your home to sell.

Once you sell your home, use the money to make a clean offer on the house you want to buy.

If everything goes well, you can move out of the rental in a few months.
Scenario #2: You'll be moving to a new city in a few months.
Whether it's to start a new job, relocate with a loved one, or to accommodate any lifestyle change, you'll be needing the money from your home equity to uproot yourself and start a life elsewhere. Besides, if you're moving to a new city, it may be wise for you to rent a bit and explore different neighborhoods before buying your new home.
The game plan:
Declutter your home until it is adequately staged to sell.

Be sure to find a buyer who will agree for you to stick around for a bit until you're ready to move to your new city. You can either negotiate a longer period until closing or offer to rent back your home for a few weeks.

Find a short-term rental in your new city and use the time to begin your home search.
Scenarios in which you have to BUY FIRST:
Scenario #1: You're selling in a seller's market, and buying in a buyer's market.
It is easy to buy a house where the market is slow since there won't be too many people to bid against on the house you want. If you're in a hot market, you can quickly find a buyer for the home you're selling, so it's improbable that you'll be stuck with two mortgages for longer than you can practically afford.
In some cases, there won't be anyone to compete with, and the seller may even accept an offer that is contingent to the sale of your home (also called a "contingency offer"). This way, you won't have to worry about paying two mortgages at the same time.
The game plan:
Start staging your home to sell long before you plan to move out. This way, it can sell quickly once you put it on the market.

Make an offer on the house in the area you'll be moving to. If you're making a contingency offer, negotiate a 30-day contingency period. If not, consider using an escrow account to secure the offer while waiting for your home to sell.

Put your house on the market once your offer on the new house has been accepted.

While this is highly unlikely to happen in a seller's market, it is wise to consider a bridge loan if it takes you awhile to find a buyer.
Scenario #2: You have enough resources to make an offer NOW, even while your home for sale is still on the market.
Not many home buyers find themselves in this position, given that most people are only capable of making a down payment on a new home once they have already sold the previous one.
However, for those who have the money, consider these:
If you buy first, you can immediately move to your new home and have your previous home staged and presented in its most appealing state. If you do an impressive job on this, you can get an excellent offer on your home by marketing it vacant and ready for occupancy.
You'll only have to move once! No more looking around for a rental unit or storage space.
You can be more at ease knowing that you already have a home that is yours to stay in while dealing with the stress of selling your previous home.
The game plan:
Gather your funds from the sources you have in mind, and make a solid offer on the house you want to buy.

Move into your newly purchased home and stage your previous house to sell.

Once your home sells, pay back the accounts you've tapped by using the money you earned from the sale.