How To Successfully Buy A Home In A Seller's Market
Posted by Lindsey Gudger on Wednesday, May 2, 2018 at 9:18 AM
By Lindsey Gudger / May 2, 2018
Comment
Planning to buy a home while the market is tight? Don't dive in unprepared! Understand what makes up a seller's market, and follow a plan to make your offer stand out.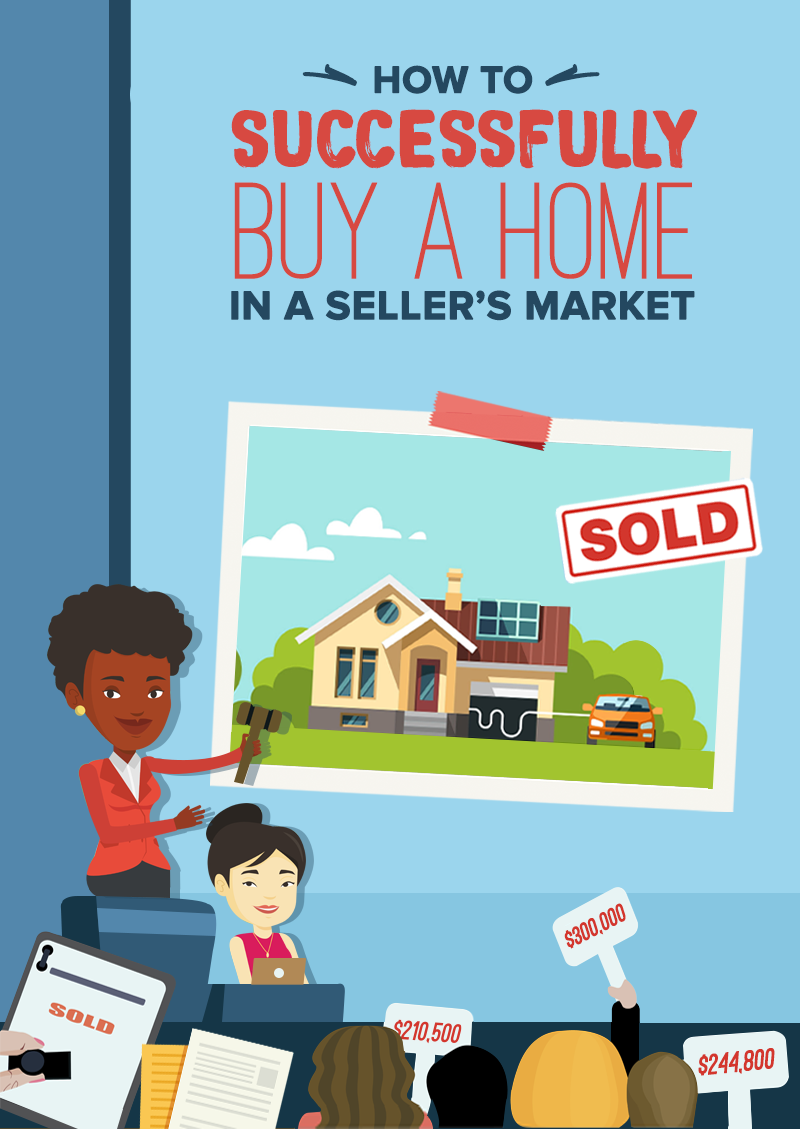 A lot of home buyers tend to make rookie mistakes that get their offers rejected in a seller's market. If you want to be successful in landing your dream home when the competition is tight, make sure you understand what a seller's market is, as well as the factors that influence a seller's decision. This way, you'll know what it takes to make the seller choose you.
I. Understanding the seller's market
A seller's market happens when there is a tight supply of houses for sale -- creating heavy competition among buyers. In the past year, numerous markets have seen a lack of inventory, as well as a rush of offers when a property gets listed for sale.
According to the National Association of Realtors (NAR), the median sale price in April 2017 for previously owned homes was $244,800 -- a 6 percent jump from the median sale price the year before.
What causes a seller's market?
If you're a home buyer, you may be wondering why you are currently caught in a seller's market. Here are a number of reasons that have added up over the years to create a shortage of supply, according to The New York Times and UpNest:
Property trends have shown that an improved economy in most areas across the U.S. has triggered a high demand for housing -- all while the housing supply has continued to lag behind. More people entering the market can also be attributed to population growth and relocation caused by increased employment opportunities.

Today's homeowners are now occupying or holding onto their homes much longer than they once did.

A lot of homeowners still do not have enough equity in their home for them to gain any profit from a sale.

Property owners are simply not in a rush to sell, especially investors who are earning rental income from the properties they bought during the recession.

There are fewer and fewer foreclosures in many areas, slashing off another source of homes for sale.

A recent drop in interest rates across certain areas the U.S. has allowed more people to qualify for a mortgage. This means that a lot of people are out buying homes because of the confidence afforded to them by a pre-approval.

Some areas have been lucky to experience a boost in government housing assistance programs which encourage first-time home buyers to take advantage of low-interest loans, down payment assistance, and tax credits. But then again, there aren't enough houses on the market to match the influx of buyers.
Given the above mentioned factors, home buyers can expect fierce competition for lower and mid-priced homes. But don't worry, it's not impossible to land the house of your dreams in this market. You'll just have prepare yourself mentally, emotionally, and financially. Read on!
II. Preparing yourself for the challenge
Again: buying a home in a seller's market is a highly competitive endeavour. However, you can still reign victorious with the right mindset and preparation.
Find an experienced realtor. In order to navigate a seller's market as efficiently as possible, you'll need a knowledgeable real estate professional communicating on your behalf. While it's advisable to do your own research and be involved as much as you can, it is always best to let your agent deal with the listing agent on the other end.

Know exactly what you want and need. In a seller's market, you can't afford to waste your precious time looking at homes you won't even be able to consider. If you spend days looking at the wrong houses, the right one may already be sold by the time you get to it. To avoid this mistake, make a detailed list of what you're looking for in a home (Two bedrooms? Three storeys? A garden?), and ask your agent to only schedule viewings to homes that fit your specifications.

Have your finances in order. If the seller of the house you want is neck-deep in offers, he or she is most likely to favor a buyer who promises the most convenient way of settling things financially. To learn more about how to make your offer stand out, read on.
III. Making your offer stand out
You're most likely going up against multiple buyers, and your chances of getting the home you want will depend on how strong your offer is. Consider the following when making an offer on a home:
If you have the resources for it, offer to pay in cash. Cash is always king—no matter what market you're in. In a seller's market, however, a full-cash offer can be your most powerful edge over the competition. Your all-cash offer will stand out and blow all offers with mortgage requirements out of the water, since you have the power to spare the seller from issues involving escrow, appraisals, and mortgages.

Offer your best price. If an all-cash offer simply isn't feasible for you, you can still win the bidding war by coming in with a strong opening offer. In calmer markets, a home buyer will negotiate the lowest possible price that will satisfy the seller. But when you're in a seller's market, you're really in no position to be stingy -- and offering below the listing price may be the wrong strategy. The seller won't bother negotiating with you if he/she has multiple bids on the table. Come up with your best price, consult with your agent, and be as generous as you can practically afford. You may even want to consider offering a substantial amount as an earnest money deposit, so that the seller knows how serious you are about buying the property.

Get pre-approved for a mortgage. As mentioned earlier, having your financing in order is a very attractive buyer characteristic. Even if you can't pay in full cash, you can still offer the next best thing: a pre-approval letter from your lender/bank. This letter will confirm your ability to borrow the money necessary to finance the home. Other buyers may offer to pay more, but without a pre-approval letter, their offer still won't stand a chance against one that is pre-approved.

Know how much "moving-out time" the seller needs, and be flexible enough to adjust. There are times when choosing the right buyer doesn't come down to just the money. Sometimes, sellers favor buyers who are willing to delay possession of the home until they can move out comfortably. If it won't cause you any trouble to wait a few days (or in some cases, weeks) for the seller to clear out the recently-bought home, be kind enough to do so. Some buyers won't think it would make a difference, but lessening the hassle on the seller's part is always a huge plus.

Don't ask for too much, or if possible, anything at all. It is typical for buyers to ask what else they can expect to get with the home that they're buying. Refrigerators, washer units, free repainting of the front door -- all these are acceptable requests in a buyer's market, but may be a turn-off in a seller's market. With tight competition, always assume that you'll be getting the house and nothing else.

Personalize your offer. All sellers want to make sure that their houses will be left in good hands. If you can give them this kind of assurance, your offer will be given more serious consideration. Make the effort to reach out to them via a personal letter. Tell them why you see yourself living in the house, and communicate your eagerness to take care of their soon-to-be former home. This tactic may sound a bit too sentimental to some buyers, but remember: selling a home can be a very emotional process for the seller. If he or she is choosing between closely similar offers, a sincere and personal letter can be the much-needed tie-breaker.