Notice Of Intent to Foreclose: Know Your Options
Posted by Lindsey Gudger on Wednesday, April 24, 2019 at 10:34 AM
By Lindsey Gudger / April 24, 2019
Comment
As a homeowner, there's an f-word that is avoided as much as possible. Even though we don't want to say it we have to talk about it. Why? Because like most problems, that's how it's handled. So say it with us, foreclosure.
Most of the time, when people find out that their dream house is facing foreclosure, their world stops. No one buys a house and puts in all the effort into making it a home only to one day realize that it will be taken away from them. Getting a Notice of Foreclosure is something that people dread, and even ignore in the hopes that the problem will go away.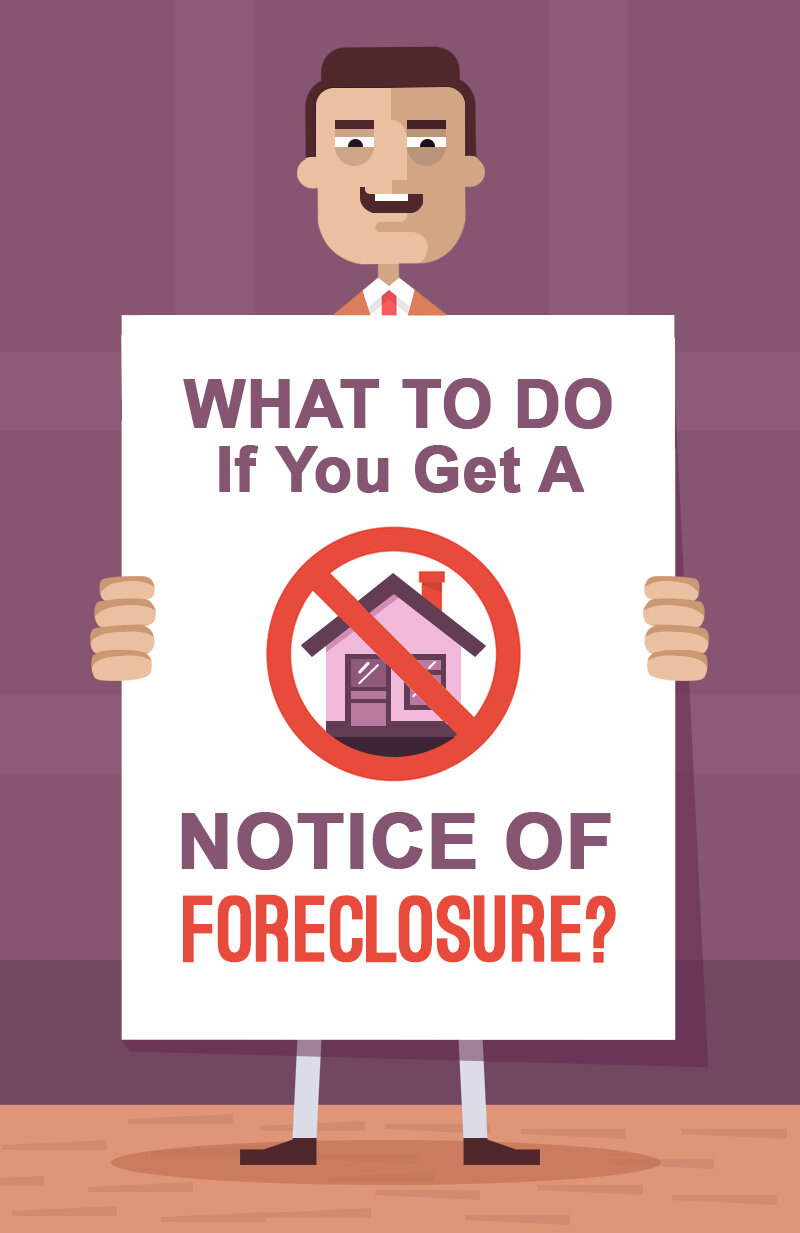 Ignoring Your Foreclosure Notice
What happens if you don't respond to the notice of intent for foreclosure?
When you receive a notice of foreclosure, the best thing to do is take charge. Getting a notice of foreclosure doesn't mean that the world has stopped because there are many options for you!
Even when you get the notice, you can still avoid having foreclosure and bankruptcy on your record. So, to answer the question, ignoring your foreclosure notice will only limit your options and ultimately lead to losing your home.
If you're reading this, and you still haven't received a notice of foreclosure—in which case you're at the stage of dreading it—what can you do?
Foreclosure Avoidance Plan
Banks offer Foreclosure Avoidance Plans for those who want to be extra-sure about their home loans.
Always consult with your lender about this first. It will seem like a fair deal, but don't forget that this is actually an additional loan. So now, you're paying for your mortgage and an additional foreclosure plan.
If this is something you can handle, then by all means, go for it! If you'd rather work on your primary loan before adding another one into the equation, it's also okay not to enter into a foreclosure plan.
What if you just totally forget the foreclosure of your house, and file for bankruptcy instead?
The good news is, yes, you can do that. Your foreclosure will be curbed if you do this. What happens when you file for bankruptcy is that your lender will not be able to collect the debt from you. The bad news is, courts cannot discharge secured debts that include mortgage payments.
What happens here is that since you are filing for bankruptcy, you don't have to pay for your mortgages yet. However, as soon as your bankruptcy process is complete, your lenders will definitely be back for your debt.
In cases like this, homeowners usually struggle with paying for their mortgages after filing in the courts. The worst part is that, most times, these homeowners end up with not just a bankruptcy but also a foreclosure on their record.
Let's say you don't go with bankruptcy and are looking at simply foreclosing your home. How does this affect your financial status?
Your foreclosure report will be on your record for seven years. Not only that, after those seven years, you may also have to write a report to three major credit agencies to have the foreclosure removed from your record.
Although lenders have been more lenient over recent years, those who are approved for new loans, and even credit lines, have to pay higher interest rates. You can't really blame them, though. They see those who have a record of foreclosure, with or without bankruptcy, as more of a liability than those who have a clean record.
Yes, getting a Foreclosure Notice is something you might have never thought would happen to you. It has been found that this has actually become more common recently.
A 2013 study found that over 4.1 million foreclosures were completed in the United States during September 2008-December 2012. This is quite a big number and does not even include those who avoided foreclosure through some of the methods mentioned above, those who opted to sell their homes, or those who found ways to work things out with their lenders.