Online Tools And Resources To Leverage When Checking A Potential Neighborhood
Posted by Lindsey Gudger on Monday, August 31, 2020 at 4:00 PM
By Lindsey Gudger / August 31, 2020
Comment
Neighborhoods, like people, have unique sets of personalities and characteristics. Whether you're planning to buy a home or considering renting for the meantime, it's important to figure out if the neighborhood you're considering fits your lifestyle before you make your move.
This is why digging into local details such as safety, walkability, nearby schools, and other local demographics beforehand is crucial. It will help you determine if your potential neighborhood suits you, which could save you from lots of headaches or getting buyer's remorse later on.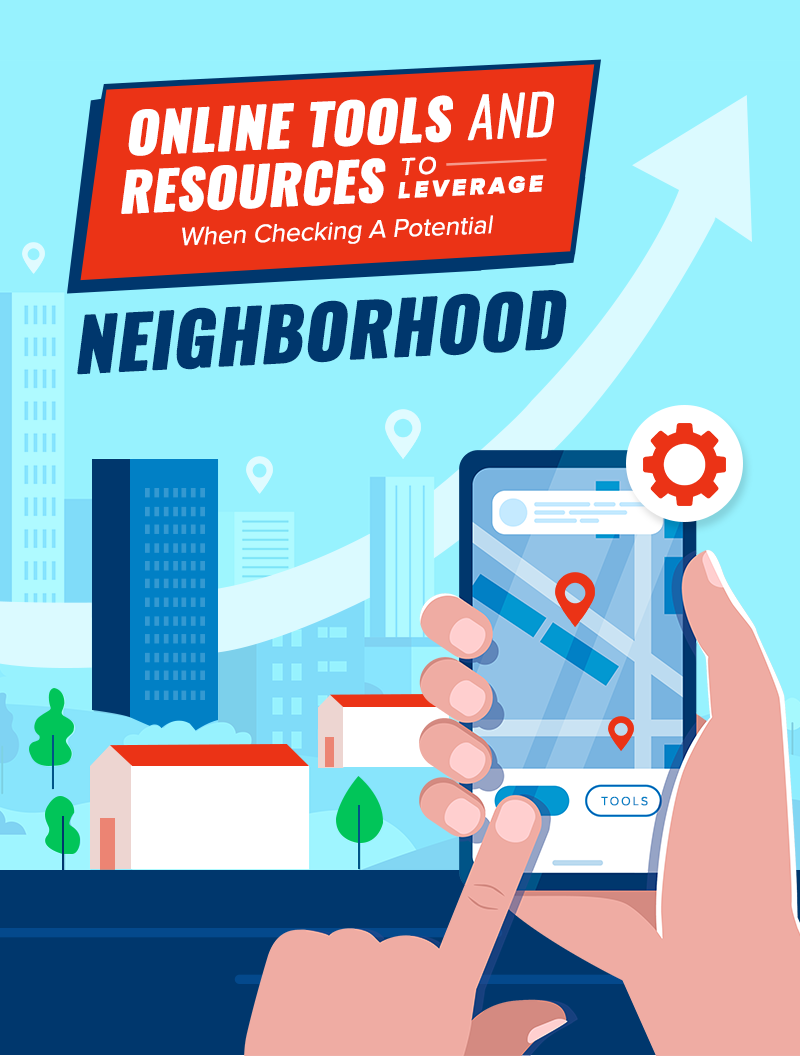 Your real estate agent is one of your most valuable resources about the neighborhood you're considering. Don't be afraid to ask them questions especially if you're buying remotely and haven't had time to visit the area yet.
However, there are specific questions that real estate professionals cannot answer due to guidelines set by the Fair Housing Act, originally passed in 1968, which prohibits housing discrimination based on race, color, national origin, religion, sex, familial status or disability. They may not be able to disclose statistics regarding some issues, such as anything related to crime and safety, because it could be a reference, intentionally or not, to the racial makeup of the neighborhood.
So if you are curious about crime statistics, school information, and other local demographic data, you may need to look them up yourself. Just remember to take any information you find with a grain of salt. Consider them carefully because not all data fairly represent the neighborhood and may carry a certain amount of bias in them.
Here are a few apps and websites that can help provide you with more information about your potential neighborhood:
Take a virtual walk on your potential new neighborhood by using Google Street View. You can do this by checking the gallery of maps below any listing or house photos in a home search site, or just go straight to Google Maps and type in the home address. You will be able to explore the neighborhood without stepping foot in there, which is especially crucial if you're buying a home remotely or still can't visit the area due to some restrictions. The virtual tour will give you a good idea of what the neighborhood looks like and what can be found nearby.
If it's a historic neighborhood you're considering, look into the history of the area via websites set up by the city's historical society. There's a good chance you can find digitized news archives and publications featuring local significant events, where you can learn valuable details about the community.
A neighborhood's walk score or walkability rating is based on whether it's possible to visit nearby grocery stores, coffee shops, restaurants, schools, and parks on foot. If part of your preference in a home is being able to easily get to places on foot, you may want to check your potential neighborhood's walk score early in the process. Walk Score also shows separate scores for public transit options and bike-friendliness of the neighborhood. Aside from that, you can also view crime and safety data and see what locals are saying.
For parents researching their potential place, it would be beneficial to check the GreatSchools rating for nearby schools. GreatSchools publishes ratings and information so that people can get an understanding of the quality of nearby schools and help them compare schools within the state. Aside from the usual test scores, the GreatSchools Summary Rating includes other important and relevant information such as how much a school helps students improve academically, how well a school supports students from different socioeconomic, racial, and ethnic groups, and whether or not some groups of students are disproportionately affected by the school's discipline and attendance policies.
If you're planning to buy, take the time to research property value trends and recent sales in the neighborhood you're considering. By taking property value trends into consideration, you'll have a better idea about whether home prices in the neighborhood are going up, remaining consistent, or going downwards. Likewise, check how many houses on your potential street are currently for sale or rent. Too many houses for sale may indicate a possible drop in property values.
And while property values in a particular neighborhood won't give you the bigger picture, they're worth looking into especially if you're thinking of your home as a long-term investment.
With NeighborhoodScout, you can find hyper-local data on current real estate activity, neighborhood demographics, crime stats, school information, and forecasts for the housing market.
Nextdoor is a private social network and app that requires you to sign up as a member and belong to one neighborhood at a time. So if you're in the process of checking out and keeping up to date with what's happening in your potential neighborhood, it might be worth joining in. In the app, you can connect with your potential neighbors and participate in real-time conversations. Nextdoor lets members stay informed and share useful local information, share goods and recommendations, and send updates related to crime and safety.
On this website, you can find statistics and detailed profiles for many cities and neighborhoods in the U.S. Data include demographic makeup, median household income, graphs of the latest real estate prices and sales trends, recent home sales, geographic data, state profiles, crime data, registered sex offenders, cost of living, housing, religions, businesses, local news links, employment, weather, natural disasters, hospitals, schools, and libraries, among others.
CrimeMapping.com is a police report-tracking service that shows on a map the different crimes reported in a neighborhood or city. It provides valuable information about recent crime activity in a neighborhood.
Also similar: CrimeReports
CrimeReports or CityProtect is a map-based site that shows you up-to-date data on crimes or incidents that have recently occurred in your area. To use it, just type the address or ZIP code of your potential neighborhood and see what pops up on the map.
This website provides a Livability Score that takes into account dozens of characteristics in seven different categories including amenities, cost of living, crime rates, education, employment, housing prices, and crime rates. When researching for the best places to live in and around a specific location, you just need to type the address, neighborhood, or zip code. You can also customize the list based on the category or factor that is most important to you.