Selling Your Home? Here's How You Can Upgrade Your Kitchen On A Budget
Posted by Lindsey Gudger on Wednesday, April 18, 2018 at 10:40 AM
By Lindsey Gudger / April 18, 2018
Comment
The kitchen is one of the most important areas in a house. If a potential buyer is someone who spends a lot of time in the kitchen, the condition of this area can make or break a sale. In fact, even if the buyer is not much of a cook, the kitchen is still a major consideration since this is where friends and family tend to gather--especially if it opens directly into the dining area.
You may be thinking, "But I don't have money to spare for a major kitchen renovation!" This is a common sentiment among sellers, and for good reason! Kitchen renovations are known to be costly--with some reaching over $80,000. But then, you don't really have to do a comprehensive overhaul to make your kitchen look good as new. With a few tips and tricks, you can transform the look and feel of your kitchen for under $5000 (total)! If you feel that this is still a huge sum of money, just think of it as an investment. Many potential buyers are willing to pay good money for a kitchen that stands out in terms of cleanliness, design, and function. Besides, your alternative is to keep it as it is, and if the current condition of your kitchen is a dismal one, this may drag down the value of your entire house.
Below are a few things to consider if you really want to upgrade your kitchen without breaking the bank. Refer to the image and corresponding number!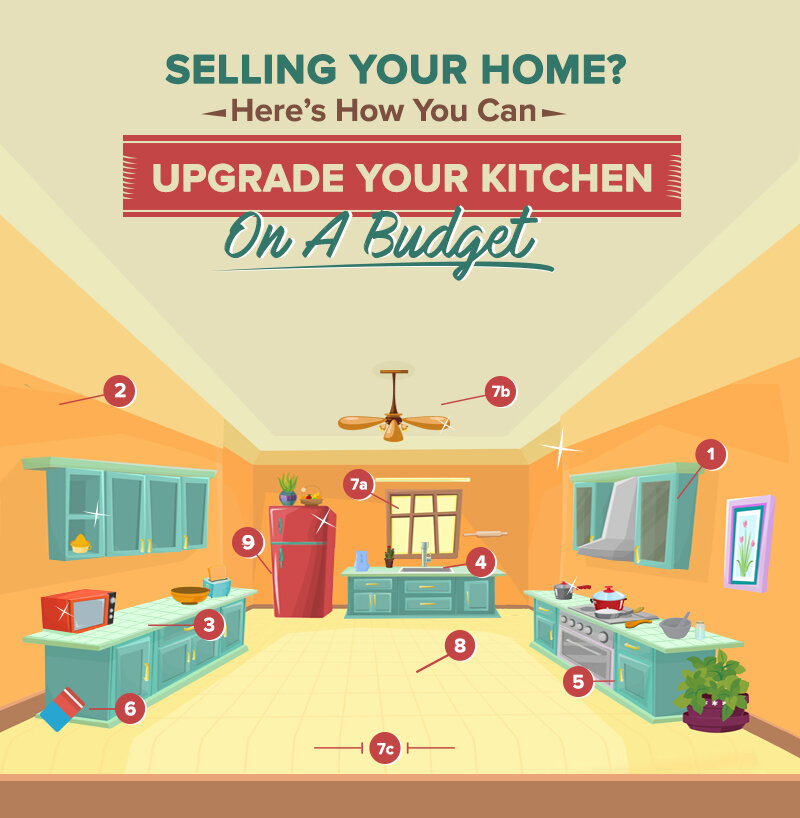 1. If you're on a tight budget, make sure to come up with an actual amount and stick to it. Only replace kitchen parts that absolutely need to be replaced. If they're not faulty or extremely old, you can simply resurface, repaint, or clean them.
2. When renovating your kitchen for resale, resist the urge to incorporate too much of your unique tastes. An overly personalized design leaves no room for the imagination, which may turn off potential buyers who don't share your taste. Remember that your goal is to sell, so choose kitchen materials and colors that would appeal to a wide range of people. If you decide to repaint the walls and cabinets, do so with a neutral color palette in mind. For kitchen items, stick to minimalist designs with a modern feel.
3. Start with your kitchen's main workstations. Replacing countertops with new granite slabs can be too expensive, so opt instead for granite tiles. You can cut down the cost even further by simply re-grouting your existing countertop tiles. Just remember to bleach off any stains, and make sure that all surfaces are completely dried up and squeaky clean during the viewing!
4. The sink is one of the first things people notice in a kitchen, so keep yours clean and polished at all times. It also goes without saying that your faucet must be in tiptop shape, without the ugly white buildup that usually form on kitchen fixtures. If you don't see the need to replace your old faucet, a tried-and-tested trick to make it look brand new is to wipe off the buildup with lemon juice or secure a plastic filled with vinegar around it using a rubber band. Be careful though, as vinegar may damage iron or nickel fixtures.
5. Replacing old knobs and pulls for your cabinets is also a cheap way to upgrade the entire look and feel of your kitchen. Again, choose simple designs that have a general appeal! If you tend to be a little adventurous when it comes to styling your home, ask a few friends (whom you trust to have good taste) to go shopping with you.
6. If you have wooden cabinets, consider stripping the finish and restaining the painting instead of resurfacing each one. This would cost you much less, but will have the same dazzling effect.
7. While the look of your kitchen is the first thing that people see, you must also take note of how it feels to be in it. Some questions to ask:
a. Is it adequately lit? Use the windows to bring in enough sunlight, or compensate with artificial lighting if you're a bit short on natural light.
b. Is it well-ventilated? Range hoods are great for improving air circulation, but can also be a bit costly, so put up a window fan instead!
c. Is there enough space to move around? While you can't increase the area of your kitchen, you can get rid of unnecessary clutter to make the room feel bigger.
8. Beautiful flooring may be the most expensive thing you'll need to work on in your kitchen, but it's always worth it when you do it right. New hardwood flooring can get most potential buyers drooling, but it's a difficult one to achieve if you're on a budget. The good thing is there are a lot of less expensive alternatives you can use, such as cork flooring or vinyl and porcelain tiles. Explore your options and go for the one that is within your budget.
9. Keep all appliances sparkly clean and free from odor. No one is going to remember your new granite countertop if your refrigerator still contains leftover food and is covered in tacky stickers and magnets. When staging your kitchen, it is important to clear out your cooking appliances and make them look their best. You should do this even if the items aren't included in the sale. As long as they're still in your kitchen, they must be in their best condition for viewing.