Should You Renovate or Not? Here Are 3 Things To Consider Before Selling Your House
Posted by Lindsey Gudger on Wednesday, April 21, 2021 at 6:25 PM
By Lindsey Gudger / April 21, 2021
Comment
When thinking about putting their property on the market, homeowners often need to ponder on this question: should they renovate or not before selling? Since it's every home seller's goal to make sure they get the best price for their biggest investment, it's important to determine whether you should undertake some remodeling projects or upgrades to make your home more appealing to a bigger pool of buyers.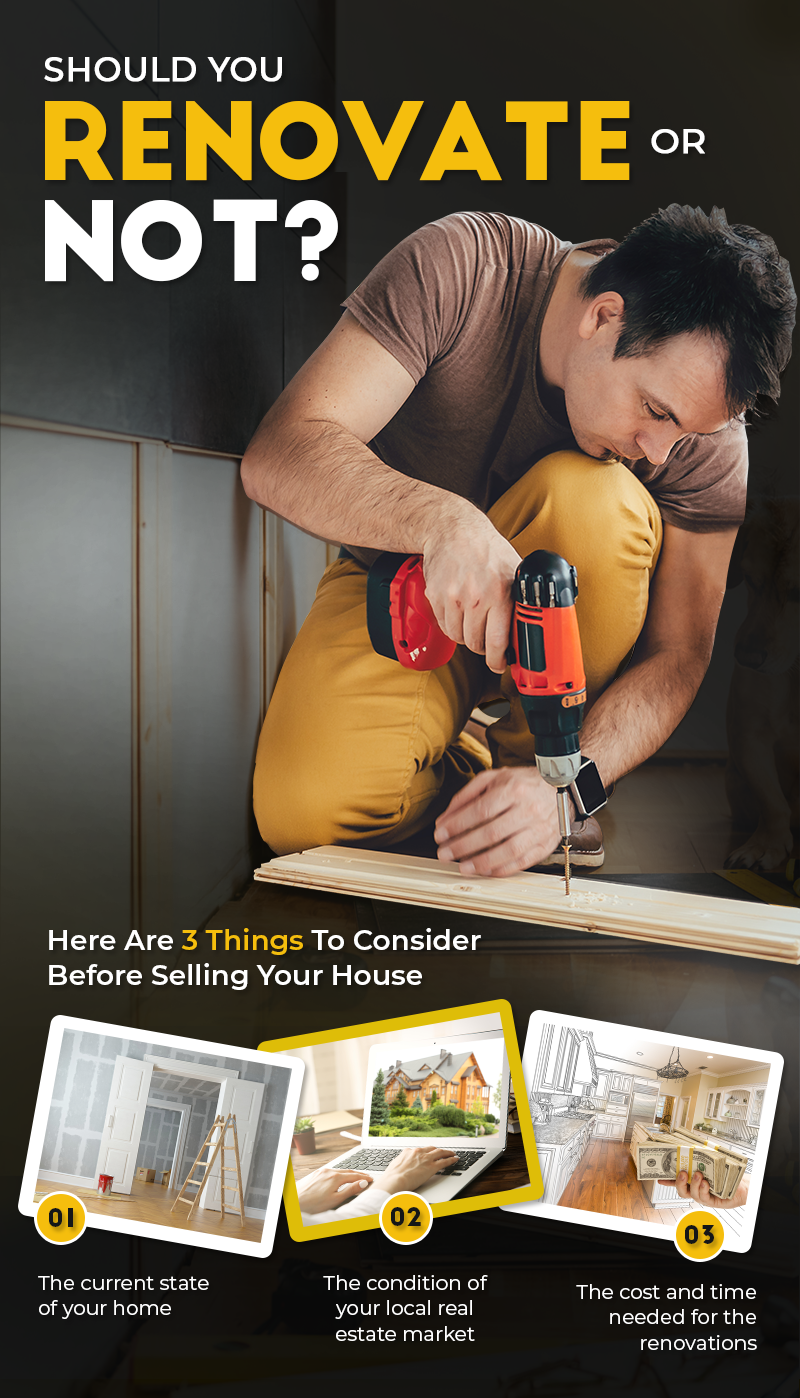 There are several factors to consider before you can figure out whether or not renovating will be worth your time and investment. Before you replace that roof or tear down a wall, here are three things to keep in mind and see what applies to your situation:
The current state of your home
The first thing to remember is that every property is different. Some homes need only a few cosmetic touch-ups; some need a full kitchen or bathroom renovation, while others need some major repair work on other areas. This is why it's important to assess the current state your home is in.
If you own a turnkey or a move-in ready home, there's little to no need to renovate anything and you can just leave it to the buyers to do what they want once they move. But if it's in dire need of repairs, you may have to do your part to make it more livable. Consider the current condition of your home before planning any renovation work because you might be surprised by how well your house could fare in your local real estate market.
A pre-listing home inspection done by a professional is a good idea so you can be aware of any potential issues, especially structural or electrical problems, pests, and even mold. The home inspector will take a thorough look at the property, and their findings or report will show the significant repairs that need to be done.
The condition of your local real estate market
Another major factor you need to consider is the condition of your local real estate market. It's truly a case-by-case study in the market now as each one is different.
If you're in a buyer's market where inventory is high or there are plenty of homes for sale but not enough buyers' interest, you might want to consider taking some time to do the repairs before listing your home for sale.
But if you're in a seller's market where there are many interested buyers but real estate inventory is low, buyer competition is high so you don't want to miss the opportunity to sell. Your best move is to just determine which upgrades are truly necessary and will maximize your listing. You can do this with the help of a local real estate agent who can give you a good idea of current market conditions so you'll figure out if you have the upper hand.
The cost and time needed for the renovations
When deciding whether or not to renovate your home before you sell, another thing you need to do is to carefully weigh the cost, time, and workload needed for the potential renovations. Because despite any thorough planning and budgeting, costs could run higher than what you may have initially anticipated.
This is why you also have to take into account if the proposed improvements are worth it against your home's market value once the repairs are completed. Many sellers think that they're guaranteed a return on investment and they'll be able to recoup the costs of such upgrades when they add it to their home's selling price, but that isn't always the case. In reality, many remodeling projects hardly ever have an equal ROI.
Likewise, remember that renovation takes time. So if you're in a hurry to move because of a new job or any other reasons, renovations may not be right for you and it might be wiser to sell as-is or just do some minor touch-ups that won't cost a lot of money but will still improve your home's aesthetic appeal.
Get help from a local and trusted real estate agent when listing your home.
Whether or not to renovate before selling your home is one of the major dilemmas that homeowners face. This is why it's critical to contact a local real estate professional to advise you on the matter and see if it's the best course of action. Since every property and market is different, your local agent will have a walk-through of the home and see if renovating will be worth the time, effort, expenses, and risks.
Because oftentimes, your home will still sell great even if you don't do any major renovations, especially if there aren't enough homes for sale in the market. In this case, your agent will just advise you to conduct deep cleaning and some cosmetic repairs to make the home more appealing to potential buyers, instead of spending a lot of money that might not yield a good return on investment. You can count on your realtor's expertise to determine which improvements are truly necessary, and which ones are not likely to be deal-breakers for buyers, especially for those that are specifically looking for fixer-uppers.