The 7-Step Decluttering Guide to Organizing Your Home this New Year
Posted by Lindsey Gudger on Thursday, January 3, 2019 at 11:02 AM
By Lindsey Gudger / January 3, 2019
Comment
We often talk about starting a home improvement project, like a bathroom or kitchen remodel, because we're dissatisfied with the house and are looking for ways to make it even better. But what if the first thing that's hindering us from appreciating our biggest investment is the enormous amount of clutter that we've accumulated over the years?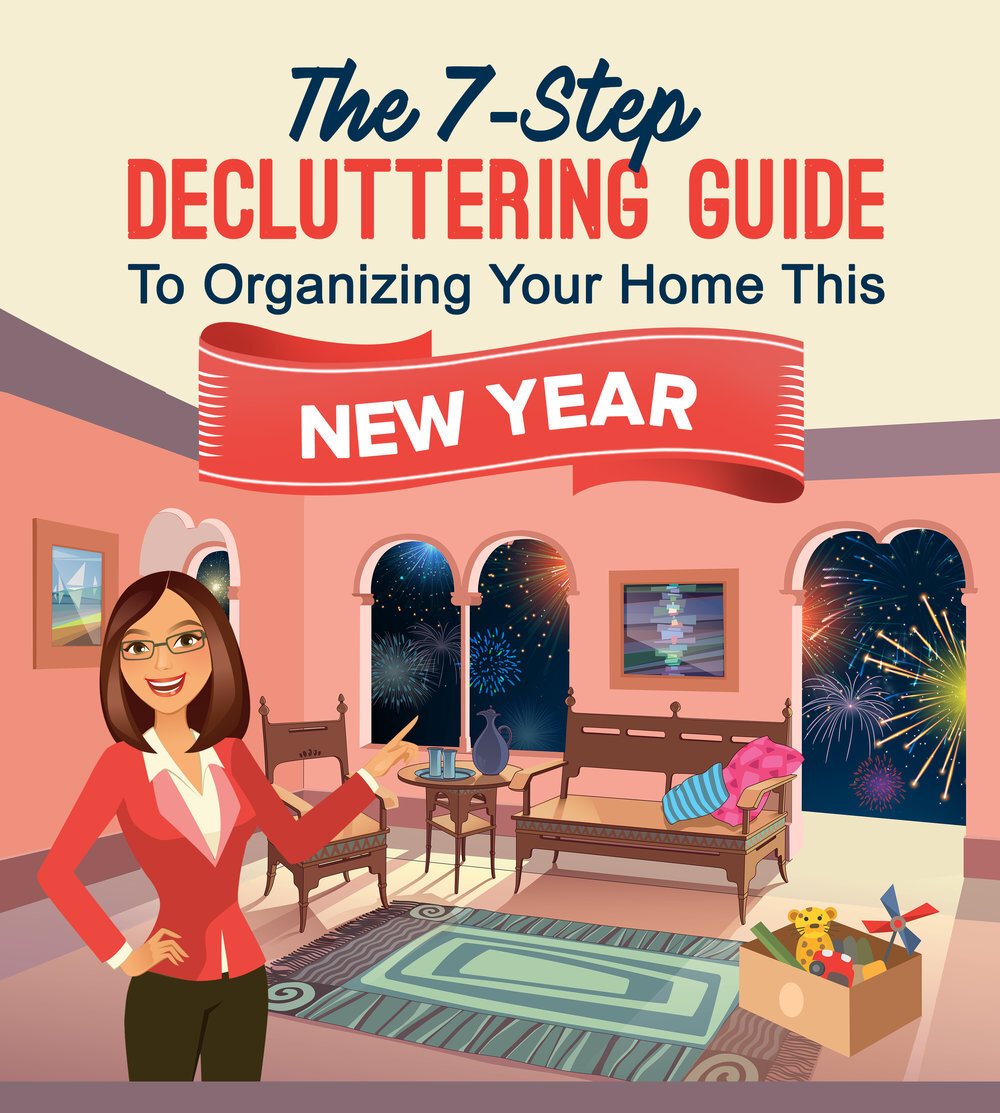 Decluttering is a difficult thing to do, especially for those who have been planning to downsize or simply move out of their current home. Deciding which items to keep, which to give up, donate, or throw out will never be easy. But too much clutter in our home can lead to chaos that can cost us money, time, and even limit our productivity and concentration.
According to the Ikea Life at Home 2017 survey Beating The Battles, having "too much stuff" was the single biggest cause of stress in the home. And the simple act of choosing which items to keep and which to discard can ultimately free people from guilt and worry and allow them to focus on what really matters most in their lives, even if taking that step is difficult.
New Year is a good time to have a fresh start, so right now is a great time to achieve a more peaceful home by decluttering and organizing your stuff. Here we've gathered some of the best techniques and principles to help you declutter so you can appreciate your home more.
#1 Plan and think about what you want to acheive
Before starting anything, think about what your goals are and your reasons for decluttering. If you don't have a clear goal in mind, you'll start enthusiastically after sorting through a few items, then find yourself losing momentum because you haven't started with the right mindset. Experts suggest you create your vision first and think things through before you start organizing.
Don't just say to yourself that you're going to organize your closet or sort through your cupboard. Instead, think about how you want to maximize your storage space, how you want to store your clothes, or how you can easily get to your preferred herbs and spices when you're cooking your meals. Take the time to assess your space and understand how you want to organize a particular area in your home.
#2 Get rid of broken and expired items first
If you're still having a hard time deciding where to start, begin with something easy. Get rid of any broken or expired items, especially hair, makeup, and other cosmetic products, old prescriptions, and medicines. The same goes for any food or canned goods in your pantry that are already past their expiration date.
#3 Deal with the clutter one room or area at a time
Make it easier for you to focus on your goals by organizing one room or area at a time. Break the job into smaller parts so you won't get overwhelmed with the task at hand. Try choosing a space that makes you feel uncomfortable — whether it's your makeup and beauty products taking over your vanity drawer, the shelves crammed with books you don't have time to read, the pile of messy clothes in your dresser, or the unruly cords and cables in your home office. Taking it item by item will help you get things done in a short amount of time.
#4 Avoid giving sentimental value to everything you own
Things like gifts, souvenirs, and inherited items can be the hardest things to part with. Putting a great deal of sentimental value on every item we've ever received as a gift or every item we've ever purchased on a vacation is a trap that we all fall into, and it can be impossible for you to get rid of unnecessary clutter if you don't learn to let go. Even though these things can be connected to a specific memory in our lives, the fact remains that these are still objects, and while some may be worth keeping forever, it's worthwhile to examine whether all of those items are still creating a positive effect on your life, or if they're contributing to your stress.
It's important to remember that you are not required to keep all the gifts you've received in your lifetime. When evaluating an item, determine whether it is really worth keeping. If you can retain the precious memory without keeping the physical object, then it might be wise to let go. You can check these tips by The Spruce to help you get rid of sentimental clutter without feeling guilty.
#5 Use the four-box method
As you set out to declutter a space in your home, adapt the four-box technique suggested by Becker in BecomingMinimalist.com to help you with this process. Prepare four boxes that will be titled trash, give away, keep, and relocate. As you consider and evaluate each item, try to place them into one of these four categories so it will be easier for you to sort things out later on.
After you've finished, you can return and double check all the items in the boxes and then put them back in their proper locations, or think of ways to discard them. You can always donate them, pass them on, give them away to friends and relatives, or sell them for some extra cash.
#6 Focus on your tasks and avoid distractions
The biggest pitfalls when organizing are the unending distractions and diversions that will come your way. When you start the task, do your best to ignore any texts, email alerts, or notifications from your social media accounts. Also, avoid the temptation to finish that book you found in a drawer you were cleaning, or review the full menu of a restaurant in that flyer you were supposed to throw out. These little distractions could send you down another path and make you lose focus on your goal. So outsmart these temptations at all costs and remember the tips given above to achieve an organized home.
#7 Reduce your clutter as much as possible
Many of us just don't have the time to focus on getting rid of unnecessary items, but we can still manage the issue if we acquire less stuff to begin with. Before bringing a new item into your home, take a hard look at the things you already own. Disorganization could cost you money when you bring home a new item only to realize you already own something similar. When there's less clutter, you'll spend less time trying to find things, less time wondering if you already have something, and less money overall when you're able to find things quickly and know you don't need a duplicate.
After you're finished, take a step back and look around. Have you missed any area that still needs attention? Once you're happy with what you've accomplished in your newly organized home, it's now easier for you to dream of your next home improvement project.