The First-Time Home Buyer's Guide To Earnest Money Deposits
Posted by Lindsey Gudger on Wednesday, May 30, 2018 at 8:18 AM
By Lindsey Gudger / May 30, 2018
Comment
Congratulations, you're about to purchase your first home! We're guessing you've already gone through the mortgage pre-approval phase, and now it's time to do the exciting part: house hunting! While you can shop with confidence because of the pre-approval letter provided by your lender, you should also be aware of the importance of having enough cash for an earnest money deposit.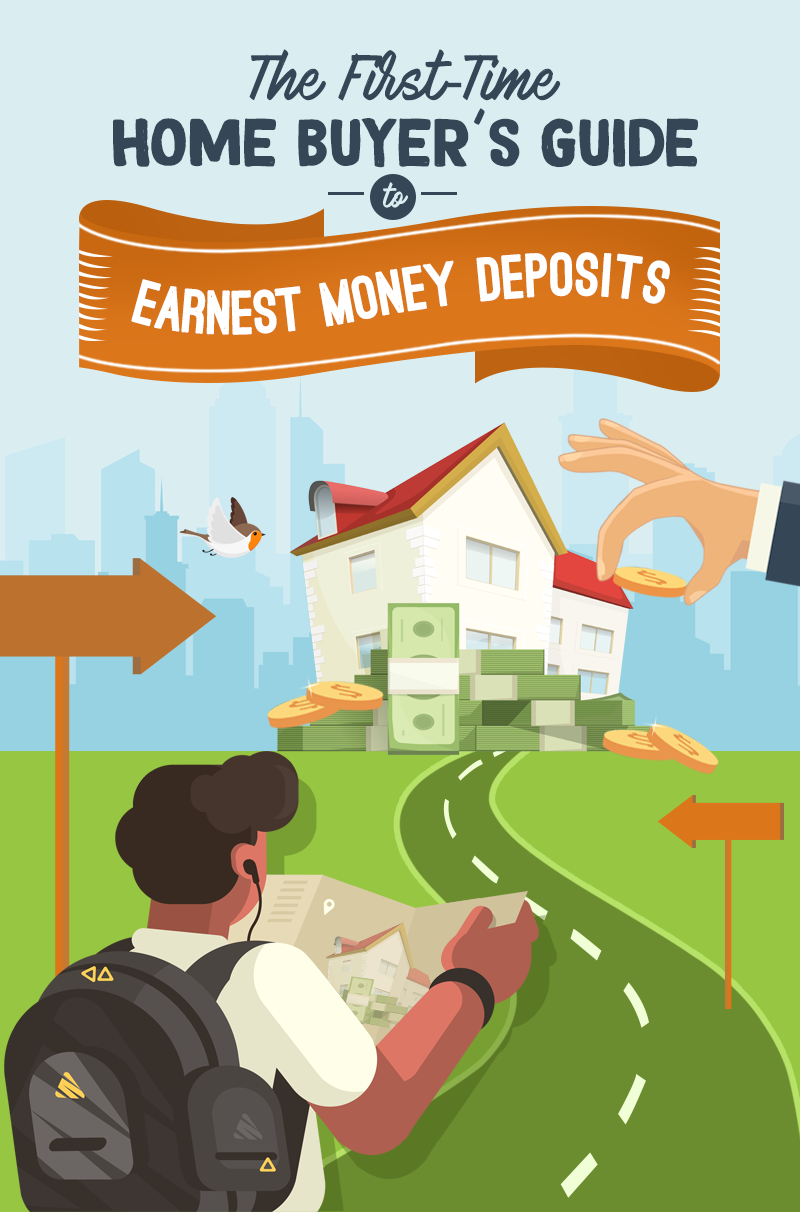 Where does the Earnest Money Deposit (EMD) come in?
When you decide to make an offer on a home, both you and the seller enter into an agreement that makes the sale contingent upon certain factors such as appraisal and inspection. The terms are stipulated in a contract, and the seller takes his or her property off the market while you perform due diligence on the home.
But before all of this can take place, you need to show the seller that you are truly capable and serious about purchasing the home. How? By making your money talk. This money, which is called an earnest money deposit, is a sizeable amount that buyers include in the offer as a proof of their sincerity or earnestness—if you will.
What are the basics of an Earnest Money Deposit (EMD)?
The EMD...
is not required—but very seldom do sellers entertain buyers who do not make a deposit in "good faith."
may offer some peace of mind for the seller, but it is beneficial to you (the buyer) as well. This is because it helps fund your down payment, and allows you additional time to perform due diligence on the home and organize your financing.
is usually held by the seller's broker using an escrow account. Once everything is in order and you're all set to seal the deal, the deposit goes to funding a portion of your down payment.
typically amounts to 1 to 2 percent of the asking price. In hot markets, however, most buyers are compelled to offer a deposit that is equal to 5 or even 10 percent of the total sale price.
varies from city to city and is given immediately after the seller accepts your offer, or up to three days from said date.
may be a fixed amount required by the seller rather than a percentage of the sale price, e.g. $5,000 to $10,000. Of course, the larger the EMD, the more attractive it is to the seller and the more your offer will be taken seriously.
Cannot be a gift from a friend or family member, unless they are buying with an FHA loan (in which case the EMD may only be provided by a family member).
can be refunded in the event that any of the contingencies are not met. A small cancellation fee may be taken out, but the rest can be taken back as long as it falls under the purchase agreement.
Things to keep in mind:
Practice caution. Make sure that the purchase agreement specifies how a refund should be handled in case the deal falls through.
Make sure to offer enough, especially in a hot market. A seller dealing with multiple offers will entertain only the strongest offers. Make yours stand out by offering a competitive amount. If a high EMD intimidates you, think of it as a way of paying your down payment upfront, since the deposit ends up being part of your DP anyway.
Be 100% certain about the home you're trying to buy. You risk losing your EMD if you back out of the deal without justifiable reason other than simply having a "change of heart." Be absolutely serious about wanting the house before making an offer that includes a sizeable EMD.
Have the necessary contingencies in place. In a highly aggressive market, buyers are often pressured into removing contract contingencies. You may think that since you've already been pre-approved for a mortgage, deleting the loan contingency wouldn't be an issue--but this is a mistake. Lenders can revoke a pre-approval based on a number of reasons, such as the house being appraised too low (which means that the buyer is paying more than what the house is actually worth). When this happens and there is no loan contingency in place, your EMD may be forfeited.
Keep track of important timelines. Know how much time you have left to terminate the contract in case you run into problems. To be on the safe side, anticipate the issues that may arise, and include the necessary contingencies in your purchase contract.
If you're buying a foreclosure, be sure to analyze the risks involved. Most foreclosed properties stipulate that the EMD is nonrefundable—and since you're buying the property "as-is," it is crucial to be extra thorough on your research before making an offer with EMD.
Hold up your end of the bargain. This is a no-brainer, but make sure that you're not backing out of the sale due to unfair reasons. If you default on the contract at the last minute because of cold feet, or you're dealing with personal problems that are getting in the way of pushing through with the sale, be responsible enough to accept giving up your EMD as consolation for the seller's wasted time.