The Things You'll Love and Hate About Being A Homeowner
Posted by Lindsey Gudger on Tuesday, November 19, 2019 at 8:39 PM
By Lindsey Gudger / November 19, 2019
Comment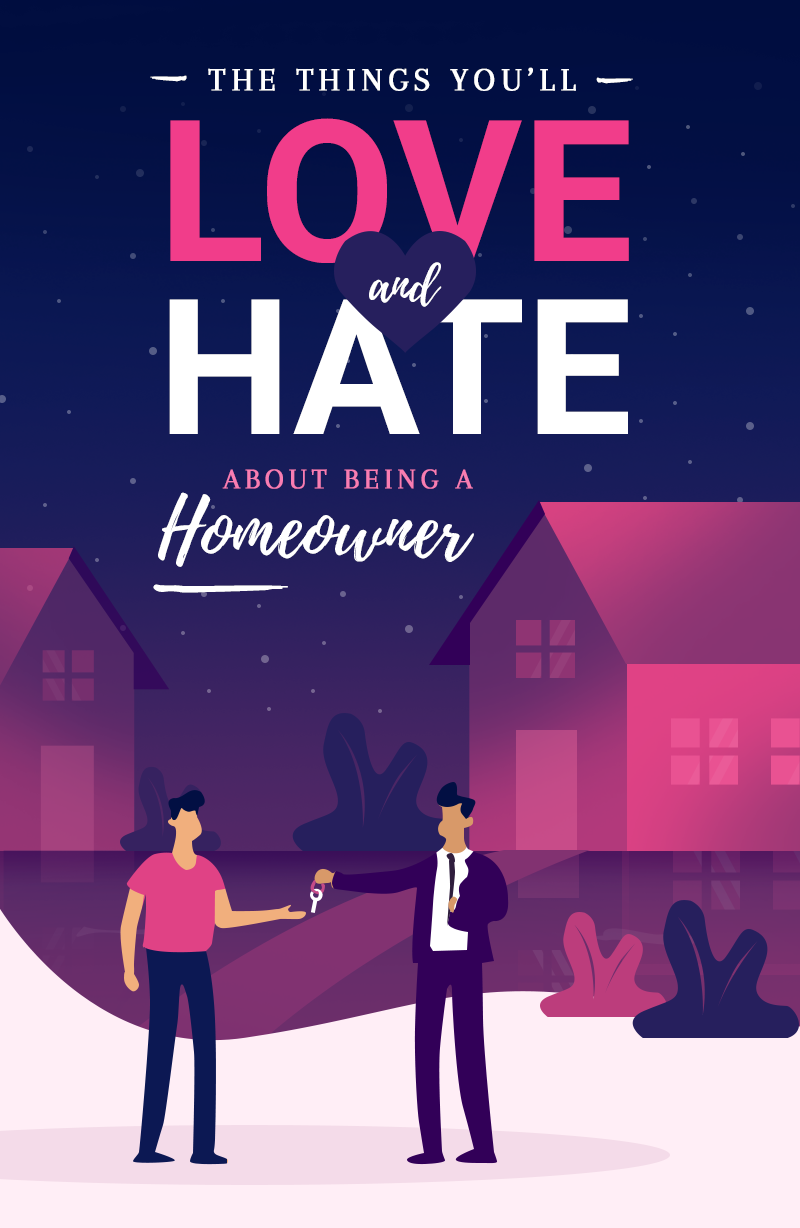 It's true what they say, "Owning a home is like having a 'high-maintenance' relationship". Your home needs your complete commitment, time, effort, and money. There will be those initial moments that you will always reminisce about—the time you were handed your house keys. But there are also moments that you will hate being a homeowner and wish you could go back to your old landlord. You quickly realize that you're stuck there for good or bad. But at the end of the day, there's the undeniable pride of homeownership and the reality that you're taking care of your biggest investment.
Love: The Feeling That You're Finally Being an "Adult"
Buying your home for the first time, no matter your age, gives you a sense of true adulthood. The feeling that you're getting your life together is unlike any other, especially if it's your first time moving away from your parents' home. While the path to owning a piece of property may have been difficult and complicated, the moment you got your house keys was definitely priceless.
Love: No More Wasting Money on Rent
Finally, you're paying down your own debt and not someone else's (Spell: Your landlord). While renting provides flexibility in terms of where you want to live, your rent increases and your landlord could make you move out when your lease is up. The average rent prices rose by 3% year-over-year, according to the Yardi Matrix data presented in RentCafe's Apartment Report in April 2019. Owning a home means you're no longer throwing away money on rent leaving you nothing to show for it.
Love: The Freedom to do Any Improvement You've Always Wanted
Want to remodel the kitchen? Want to paint your bedroom walls in unicorn colors? Want to turn an extra room into your man cave? Go right ahead! There's no one to stop you because you're the landlord now. There's no need to get your landlord's approval to do any alterations to your home. You can even knock down a wall to create an open floor plan if it suits you. Your home is a blank canvass to express yourself, so it's up to you to apply any modifications you want.
Love: That Burning Passion to Decorate
Prior to purchasing a home, you might not have even cared about the color or brand of your mattress, the plates you're using, or even the shower curtains in the bathroom. But now trips to IKEA or any home improvement stores are absolute necessities and a fun way to spend the weekend. And admit it, home warehouse sales could now make or break you. You're utterly drawn to that buy-one-get-one decorative pillows or that 20% sale on an outdoor coffee table just so you'll have new excuses to redecorate your home.
Hate: The Fear of Breaking (or Messing up) Something for the First Time
Who doesn't take extra care of their things when they're new? Whether it's new shoes, gadgets, or a new car, you immediately try to keep it in its best shape for a few weeks. When you own a new piece of property, you are dead set to keep every nook and cranny as clean and organized as possible. So it can be torture when something breaks for the first time, especially now that you're the landlord. But once you survived that incident, enjoy the feeling that you can now handle every challenge that will be thrown your way.
Hate: The Pain of Staying at Home to Vacuum, Mow the Lawn, and Take Care of Any Necessary Repairs
Being a homeowner is a ton of work, so there are sacrifices you have to make every now and then to take care of your beloved investment. Yes, you can always hire a handyman when something needs to be fixed or be replaced, but when the task is simple enough it might make more sense to handle it yourself instead of paying someone else to do it. And tasks such as changing a lightbulb, fixing a leaky faucet, and replacing air filters, are just some easy home maintenance tasks that you need to learn to be a better homeowner. It could mean passing on a Saturday brunch with some of your friends to prioritize these things, but it also means you can save some bucks when you DIY.
Hate: The Bills That Just Keep on Coming
When you were renting your housing expenses were pretty fixed and predictable, such as rent and basic utilities. You can count on your landlord to handle everything else, especially for any unexpected maintenance costs. But now that you're a homeowner, your monthly mortgage payments may never be up, but there are other expenses that you are now responsible for. There's no landlord to handle payments for city services such as trash, water, and recycling collection, snow removal; or even the HOA fees and property taxes. That's why you need to consider the "hidden costs" of homeownership before buying a house. You need to have a comfortable cushion of funds for these expenses. No homeowner wants to be house poor, right?
Love: The Excitement of Setting up Your Own Parties
From your first housewarming party to every occasion there is (including Super Bowl games!), there's more room to entertain a large crowd when you own a home. You can also cheer or party as loudly as you want without worrying about your landlord complaining about the noise, even into the wee hours. Just make sure to keep the noise reasonable for the sake of your neighbors. But nonetheless, you'll be making good and lasting memories in your home without the fear of being caught or being told what to do.
Love: The Feeling That you Finally Belong to a Community
One of the downsides of being a renter is you rarely engage in a conversation with your neighbors. You may have never even met most of the people living in your apartment building. But when you own a home, it paves the way towards other types of activities, such as contributing to the community. According to NerdWallet's Millennials and Homebuying Study, one of the top reasons young renters choose to own is to feel engaged in their community. Owning a home in a community is one of the major reasons why residents become more civically involved. Don't be surprised if you found yourself smiling and waving at your neighbors even when you've just moved in, or attending a community board meeting to participate in an issue you care about.
Love: The Bliss of Never Negotiating With Your Landlord Again
When you finally own your place, you can breathe easy knowing that there's no landlord to scrutinize and judge your every move. And that feeling of true adulthood will again sink in.
Love: Homeowner Tax Breaks
Despite the bills that never seem to end, you can save a ton of money come tax time. There are tax credits that only homeowners can enjoy, such as for property taxes, mortgage interest, renewable energy products and upgrades, home equity loan interest, and even for certain home improvements.