Tips for Moving Safely to a New Home During the Coronavirus Pandemic
Posted by Lindsey Gudger on Friday, May 22, 2020 at 9:21 PM
By Lindsey Gudger / May 22, 2020
Comment
The COVID-19 pandemic has put a stop to many of our daily activities and routines. It has also forced us to practice our "new normal", such as maintaining social distancing and following stay-at-home orders as much as possible. Many businesses have been affected, and the real estate industry is no exception. In some markets, home buying and selling activities may have declined, so in turn moving service providers are left with fewer people wanting to relocate.
However, people will continue to need to move amidst this health crisis. And if you are one of those whose move is critical right now—especially if you have to relocate for a new job, you just closed on a new home, or the home you own was recently sold—there are steps you can take to accomplish it as safely as possible.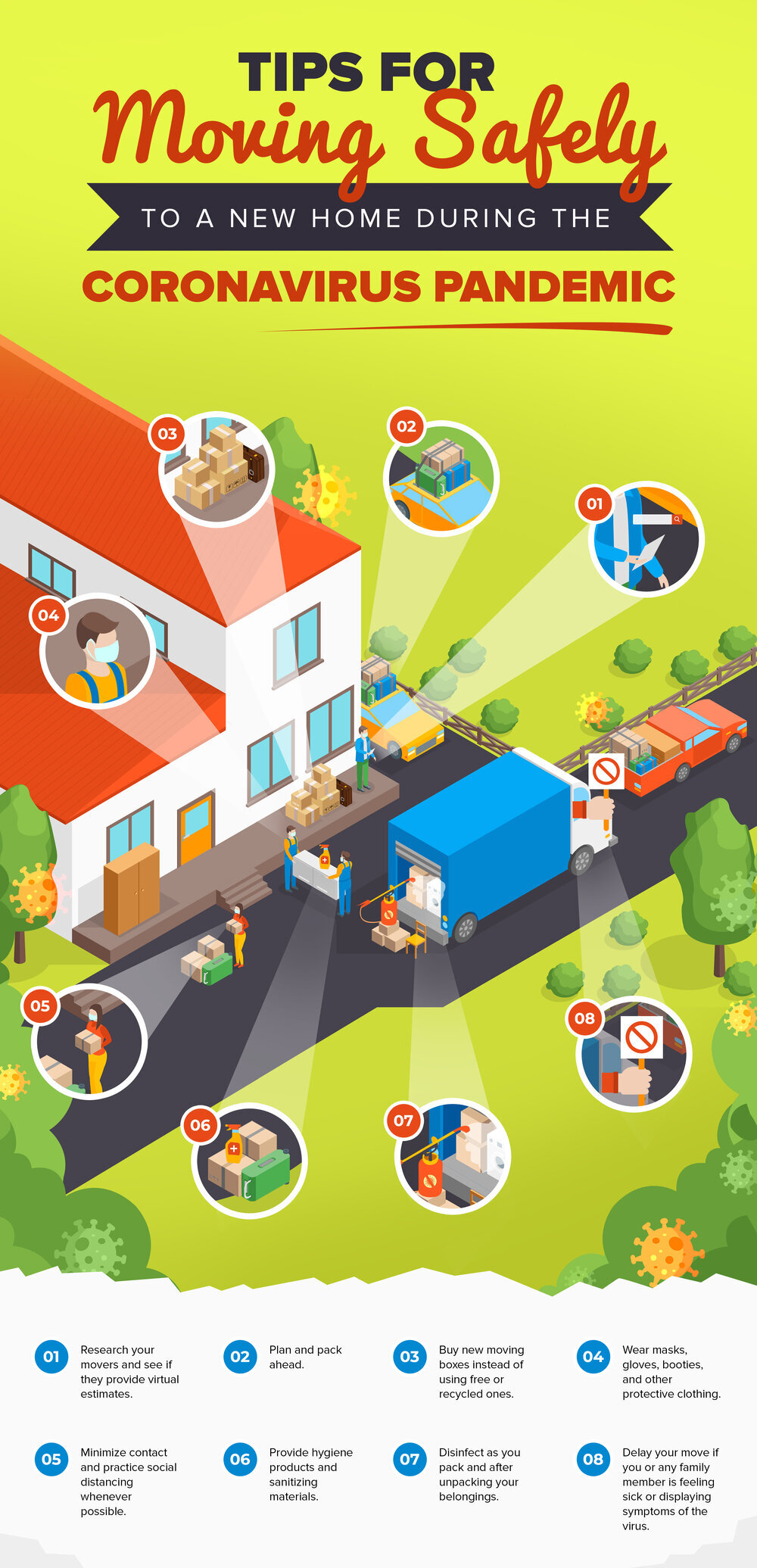 Is moving essential?
According to the American Moving & Storage Association (AMSA), moving has been deemed an "essential service" by the federal government. This means movers can continue to operate their businesses so you won't be left pushing your huge couch out the door on your own.
However, cities and states across the country have their own way of enforcing social distancing and restricting permitted business operations to services they deem as "essential." So even if moving is generally an essential service, the orders may be different in your locality so it's important to ask your realtor and do your research as much as you can.
Here are some tips on how to move to your new home safely during the coronavirus pandemic:
1. Research your movers and see if they provide virtual estimates.
Do your homework on the moving companies that are still operating in your area in this time of pandemic. Contact them and ask about their current sanitation procedures, whether their workers have necessary supplies, like masks and gloves; how often do they disinfect their trucks and vehicles, and other safety measures in place to protect everyone involved in the process. You may also check the moving service provider's website to view their COVID-19 policy, and then ask them directly for any questions or concerns.
Traditionally, movers will visit your home to provide a quote. But with social distancing requirements, a virtual estimate and a fully contactless service is your best bet to move safely while this health crisis is ongoing.
If you have already found a mover you want to work with, ask for a virtual estimate, which often includes a video call walk-through of the space. You may be asked to provide some measurements so they can prepare for any large furniture or tight spaces. In a virtual survey, you must take into account the size of the rooms and the items in each room. If in case you're already halfway through your packing, inform them about the number of your boxes and the sizes/dimensions of each.
Discuss with them best practices for moving day and how you can prioritize your health and safety. Also, confirm if there is a reasonable cancellation or rescheduling policy in the event that you need to change your plans. Don't forget to make alternative plans in case the company ceases to continue operations at the time of your move.
If you can't figure out how many boxes you'll need for your move, take advantage of packing calculators available online so you can get an estimate based on the number of rooms and people in your household. This way, you won't have to make the extra run to the store in case you didn't purchase enough. If you're still in doubt, it might be better to buy a few extra.
And while letting the moving company handle the packing and unpacking of your home is more convenient (although somewhat pricier), the safest option during this time is to pack your belongings yourself. You'll be in control of handling and disinfecting each of your belongings, and you won't have to worry about the movers touching more surfaces to limit the spread of the virus or any potential germs.
3. Buy new moving boxes instead of using free or recycled ones.
In the not-so-distant past, it was normal to reuse boxes from your local grocery store or neighborhood networks to save money. However, due to concerns about the coronavirus' ability to remain active on surfaces (it can survive on cardboard boxes for as long as 24 hours), this approach isn't recommended. The AMSA's guide for consumers who are moving during this pandemic suggests purchasing new moving boxes and tapes from your mover. Boxes and moving containers that are already available in your home are fine, but if you need any extras, just play it safe and buy them new.
4. Wear masks, gloves, booties, and other protective clothing.
Follow CDC's recommendation to wear masks, gloves, booties, and other protective equipment while you're packing your things and even during your move for everyone's safety and to help curb the spread of the virus. The crew members of your moving company will also likely do the same.
5. Minimize contact and practice social distancing whenever possible.
If you can, designate one family member that will interact with the movers once they arrive to minimize contact. Also, make sure that everything is packed and ready even before they get into the home. Many movers also make it their new protocol to practice social distancing between themselves and their clients, so do your best to do the same.
6. Provide hygiene products and sanitizing materials.
On your move-in day, be sure to leave out enough products that your movers can use in following necessary hygienic practices while they are transporting items to and from the moving truck. Place soap and paper towels next to sinks, and provide plenty of hand sanitizer by the main door. This way, even if the movers came equipped with their own supplies, you can use the supplies to wash your own hands after making contact with any surfaces. You may also want to provide other protective equipment such as gloves, masks, and face shields that everyone involved in the moving process can use.
7. Disinfect as you pack and after unpacking your belongings.
Use this opportunity to sanitize every item in your home as you pack them. The same approach should also be done to your moving boxes before you put in your belongings. Disinfect everything, from books and lamps to furniture and appliances, while having your mask and gloves on.
It won't hurt to be cautious, especially since the coronavirus can be spread by asymptomatic carriers. Once the boxes and items are brought into their proper places, thoroughly clean and disinfect everything before using them again just to be safe.
Likewise, wash your hands properly after handling any items the movers touched. And don't forget to disinfect high-touch objects and surfaces after the movers leave, especially door knobs, handles, and light switches.
8. Delay your move if you or any family member is feeling sick or displaying symptoms of the virus.
Don't think twice about delaying or postponing your move if you're feeling under the weather or if anyone in your household is experiencing coronavirus symptoms. Let your mover know right away if you suspect the illness so they'll put additional protocols into place to protect their workers. Also, inform them if you or anyone in your family is isolating or under quarantine due to exposure. Transparency is very critical, especially during these times where the health and safety of everyone involved should come first.
If you made a deposit with your moving company, contact them if they can be flexible or make an exception during this pandemic so you'll be free to change your plans without penalty. Although rescheduling can be very inconvenient, it's not worth putting others at risk, so delay your move until you get the all-clear from a health professional.
If you or someone in your family belong to a high-risk group, such as individuals over 60 and those with pre-existing respiratory conditions, reconsider moving if at all possible until the situation is more safe.
Bottom Line
Moving is even more challenging during this health crisis, especially if you have kids or any high-risk family member. You and your moving company should do careful planning and take extra precautions to be able to pull it off. Our homes are our safest haven for now, so no matter how difficult the task of moving is, once you get past such a hurdle, you can focus on keeping yourself and your family safe.