What Is Virtual Staging? Here's What You Need To Know About This Trend
Posted by Lindsey Gudger on Tuesday, October 6, 2020 at 11:58 AM
By Lindsey Gudger / October 6, 2020
Comment
In today's real estate market, there's nothing more important than appealing to buyers online by showcasing your home in its best light. And thanks to technology, there's now another great way to prepare your property for sale without the heavy lifting—virtual staging.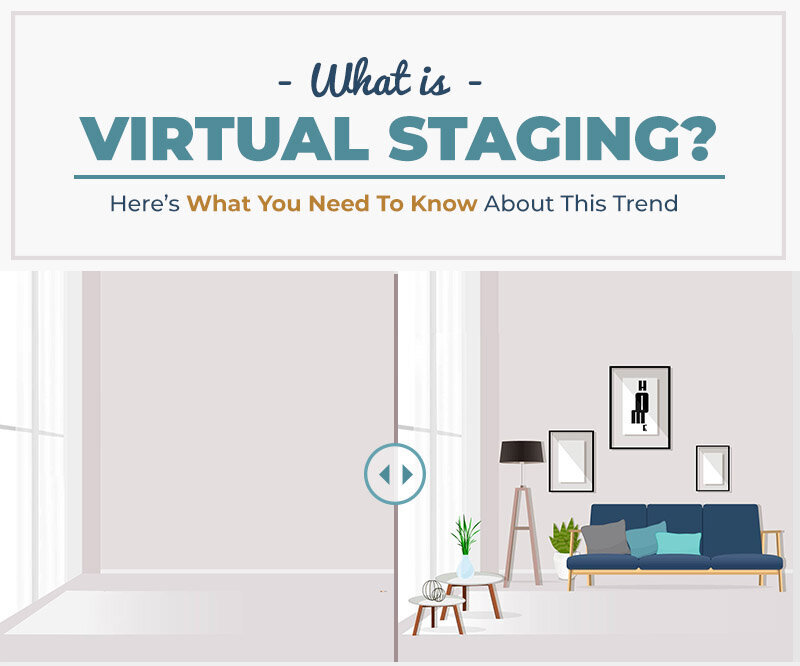 So what is it and how does it work? Read on to find out and see if it's a viable alternative for you.
In a traditional home staging, professionals add and arrange furniture, artwork, and other decor pieces in rooms to make them look their best—an effort to entice buyers to make an offer. It's like dressing up the home to make it look stunning for listing photos and house tours.
Virtual staging, on the other hand, is a process where stagers or designers take digital photos of the rooms, then use photo-editing softwares and tech platforms to digitally add gorgeous furnishings and accessories. The method can make an empty (or a bady furnished) room look like it has been artfully staged. Some platforms can even do virtual renovations, like revamping a room with a new wall color or digitally erasing a peeling wallpaper, to enhance the home's overall appeal.
#1 It helps potential buyers visualize what could be in the room.
Especially for vacant homes or empty properties (more on this later), virtual staging helps potential owners visualize themselves living in it. It helps them imagine what each room could be like or look like once they move in.
#2 Virtual stagers can decorate your home in any style you like.
Unlike in traditional home staging where there's usually a limit to the variety of interior furnishings and decor that can be used to spruce up your home, a virtual staging service can provide a vast portfolio of furnishing options so your home can be styled in any way you like. Designers of this trend usually have no limits and are constantly updated with the newest interior design trends.
Virtual staging is also a good idea if you know the personal preferences of your prospective buyers and want to create a customized look for them.
#3 It's more cost-effective than traditional home staging.
Virtual staging is usually much cheaper than traditional staging, and it's also a flat fee. According to Redfin, it costs somewhere between $39 and $199 per room, depending on the location and the amount of space you need staged. Traditional staging can cost several hundred dollars per month, depending on many factors. Just remember that each method has its pros and cons, and there are many things you need to consider aside from the price, depending on the property that needs to be staged.
#4 It's perfect for vacant homes.
Virtual staging can be very useful if done properly in empty houses, from which the seller might have already moved out. Another scenario is if the property is inherited. Showing vacant rooms could make it harder for buyers to conceptualize how they can make use of the space. But when a room is virtually staged, it gives potential buyers an idea on how and where to place furniture and other decorations.
It's also best for homes with outdated furniture, or even properties with tenants in them, where the landlord or homeowner has little control over the space's appearance.
#5 It saves time in marketing the listing.
Because everything is being done on a computer, the process is a lot quicker when it comes to virtual staging. There's no need for your home to be assessed first to get an estimate, and then find appropriate furniture and rent them out. It's also a huge benefit to sellers who are still in the middle of renovating their home because they don't have to wait until it's completed for the realtor to be able to post listing photos and begin to market the home.
Limitations, concerns, and reminders about virtual staging
Can it be categorized as false advertising because of the misleading photos?
This is probably the biggest concern about virtual staging so it's helpful to be aware of certain ethical boundaries. In the process of staging virtually, your home can be shown in its best light based on your target buyer. But it doesn't mean that they can add something in the home that doesn't exist, or remove something permanent in the home, such as a water tank. Just think of virtual staging as simply "reimagining" your home being styled with the latest design trends or decor.
It's important to clearly note on the online property listing that the photos have been virtually enhanced. This will help avoid prospective buyers from feeling tricked when they go tour the home and see rooms that look nothing like the photographs they saw online. Your real estate agent will also give them a heads-up about the rooms being virtually staged so they won't look the same in reality. They can provide buyers with both photos of empty rooms as well as the staged rooms so they will know what to expect. This gives them the ability to see the home with or without furniture, and even decide where furniture should be placed once they already own the home.
Hire a good virtual staging company.
Virtually staging photos for real estate is also tricky. The images should be exceptionally realistic that buyers won't know at first glance that they're digitally enhanced. Thankfully, with the technology available today virtual staging no longer looks fake. The most challenging part comes when they overdo furniture and other decorative elements.