What Things Stay in the House and What Should Go With You After A Home Sale?
Posted by Lindsey Gudger on Friday, October 4, 2019 at 8:59 PM
By Lindsey Gudger / October 4, 2019
Comment
One thing that makes a real estate transaction so confusing is the issue of what stays with the house and become the new owner's, and what goes with the seller once they move out of the property. Oftentimes, sellers believe that if it's something that they have installed in the home and spent money on, they can take it with them. Their views of what are fixtures and what can be considered as their personal belongings may be shrouded by their attachment to the home. Unfortunately, that's just not how it works.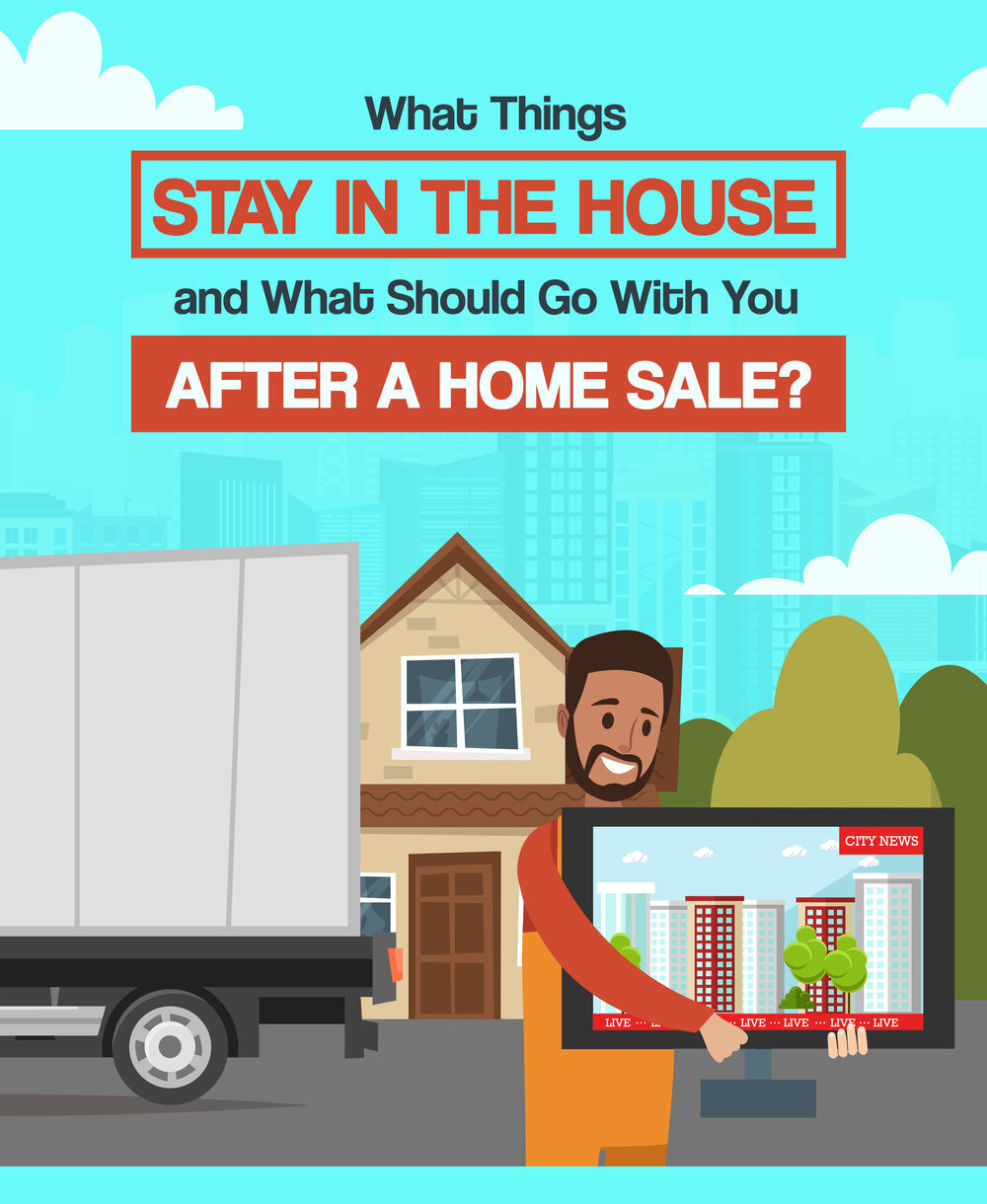 Taking out something you haven't disclosed upfront, including in writing, or even negotiated to keep with you, can cause the most heated debates during and even after the home sale. Also, it'll be annoying for any buyer to find items like kitchen door handles to be missing from their rightful place.
It's important that you clearly spell out and negotiate in your real estate purchase contracts what is included and what is not included in the sale of the home. It's something that needs to be agreed upon by both parties to ensure a smooth transaction.
So, what stays in the house and what goes with you when you move?
Anything that is bolted, mounted or nailed down
What is a fixture and what is not? According to real estate website Inman, a fixture is any personal property that is physically attached to the land or structure by bolts, nails, screws, cement, or any other attachment method. These are immovable elements of the home that are converted to real property. Likewise, if a house has been modified to fit an item perfectly, it is considered a fixture.
Fixtures can be a major cause of misunderstanding between sellers and buyers during the home sale process especially if they are not included in writing. If a wall has a hole that accommodates an air-conditioning unit, then it is most likely a fixture. If the home has a ceiling fan installation, a seller should replace his personal lovely ceiling fan with an old one he doesn't want to take. Fixtures stay with the house even if the sellers want it.
Likewise, the most common gray areas with fixtures are mirrors and flat-screen TVs and their mounting mechanisms. Mirrors are considered fixtures if they are bolted to the bathroom or bedroom wall. But if they are just hanging on a wall, sellers could take them since they are considered personal property.
Flat-screen TVs, on the other hand, are considered personal property of the sellers, especially if they are expensive, high-definition type. Similarly, they can also take the television's mounting mechanism, unless it is detailed in the sale that the TV will be part of the home sale or the buyer wants to include it in the real estate negotiations.
Sellers are not really required to leave large and heavy appliances with the house, including the refrigerator, washer, and dryer, or stove. If such appliances are not permanently affixed to the property, then they can simply be unplugged and removed. It's already up to you as a seller to decide whether you'd want to take it or include it in the listing price of the property. Most buyers will be willing to include the appliances in their offer price, anyway.
But remember that there are certain types of financing or mortgage lenders whose conditions call for a stove or an oven to be installed before they approve a loan.
Anything that is built-in or cemented into the ground
Backyard items like a basketball hoop, a swing set, or a trampoline can also cause a misunderstanding between the two parties during a home sale. Normally, anything that is built-in or cemented into the ground should be considered as part of the property. The ones that are freestanding or detached are of the seller's personal property, hence, they can take it with them.
The classic example of this is that impressive chandelier in the center of your dining room or any appealing light fixture the buyer has already seen as part of your home. As a seller, you need to know that buyers want to get what they saw during the showing. They expect everything they saw to be included when they write an offer for your home. If you packed it up with you and left electrical wires hanging to where it should have been, you're in for a sticky situation. Experts have warned that changing something in your home after the date the buyer gave an offer is actually illegal.
If you intend to take any light fixture with you, remove it even before you list your house for sale. Then put in something acceptable as a replacement but can still help emphasize your home's best features.
Window treatments and coverings
Whether the window treatments and coverings stay is another issue that can cause nasty confusion during and after a sale. Rods and blinds, even expensive custom blinds, are considered part of the property and should go to the new owner since they are usually attached. Curtains, on the other hand, are almost always considered as personal property since you can easily slide them off. If you want the existing drapes and coverings, exclude them from the sale and specify it in writing.
Hardware on the kitchen and bathroom
While this should be a case of "common sense," still, it's not uncommon to hear stories of buyers who have complained about missing doorknobs, toilet paper holders, kitchen cabinet pulls and handles bath fixtures, and well, the horror stories go on. The rule is that any hardware should stay and transfer to the new homeowner since they are attached to the property.
The only situation where it might be acceptable that the seller remove all fixtures and finishes from the home is during a foreclosure. It might be their last chance to salvage part of the house and make money out of it. So for buyers who are looking into a foreclosed home, remember that since it is already owned by the bank, it is sold "as-is." Yes, even without the doorknobs and cabinet handles.
Plants, trees and any landscaping
One scenario: part of what made the buyer fall in love with your home is that lovely rose patch in your front yard. And then you intend to take it with you once you go? Oh, no. We know it's beautiful and that you spent hours of tireless work looking after it. However, if the property listing doesn't specifically mention you want your plants or trees, you cannot remove them. Since any landscaping is a great part of your curb appeal, the right thing to do as a seller is to request to take it with you, particularly if someone gave it to you as a gift. Otherwise, you can't take the plants and leave a patch of dirt that can displease any buyer.
Above-ground spa and/or swimming pool
As discussed, anything that is built-in or cemented into the ground goes with the house. So you can take your above-ground spa or swimming pool with you once you leave. A free-standing spa can be considered personal property and is likely to be easily removed. However, if you don't want to take these features with you and the buyer doesn't want it either, you may still need to remove it. The buyer can specify it that he/she wants to see it go by closing.
For Sellers,
After discussing what stays and goes, specify the things you want to take with you on your property listing. As the seller, be specific and avoid saying uncertain things like "probably" or "most likely." Be sure to document it all in writing and in your marketing materials so there won't be any confusion with the buyer. It's a crucial thing for buyers especially when they make an offer for the home.
Take anything you want to keep with you before listing your home for sale. Then replace them with something else that might go as fine or acceptable. Don't make a show-stopping chandelier a part of your home staging if you have no plans to leave it on the house and pass it to the new owner.
We understand the mixed feelings you have as you sell your home, but avoid giving any sentimental value on simple tools like doorknobs, 60-watt light bulbs, or pegboard hooks. Never take them with you when you vacate the property. Often, these are things that aren't really worth chasing after but can annoy the new homeowner. Hiring an experienced local real estate agent can help you sell your home for top dollars so you don't have to worry about leaving petty hardware behind.
For Buyers,
Perhaps it would be safer not to assume that everything you see on the property comes with it and will be part of the home sale. If there's something you really like and want it to stay in the house once you become the new owner, don't be afraid to speak up! Include all of the items in your purchase offer and be as detailed as possible. That way, both parties will avoid any confusion, disappointment, or worse — nasty exchange of emails and even a lawsuit for the seller — once the deal closes.